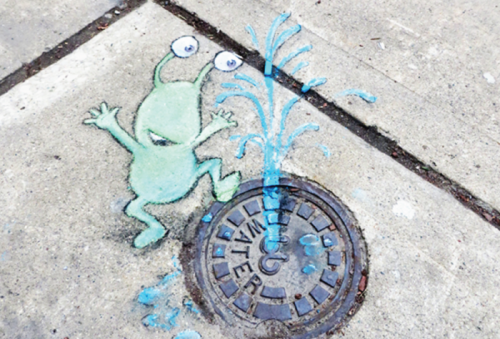 A new art exhibition is now available not only in the Ferris State Fine Art Gallery but in downtown Big Rapids, too.
David Zinn, a street artist and professional illustrator, is unlike past artists featured at Ferris State University. This is because Zinn will be completing his work in the gallery and on site instead of having finished it in advance.
"We rarely get to see an artist at work in the gallery. Most work comes to us prepared and ready to install," Ferris Fine Art Gallery Director Carrie Weis Stermer said. "What's exciting about David's visit is that he will be creating work on site in areas that inspire him. He'll be outdoors—weather permitting—and engaged with visitors who can observe and interact with him while he works."
According to Stermer, the goal of this year's art exhibitions is to be thought-provoking and cause discussion.
"The overriding theme for the gallery exhibits this season is 'Exploring'. I'm interested in having our exhibits explore subject matter, feelings, interactions, etc.," Stermer said. "This particular exhibit titled 'Spreading Light & Joy' is about exploring what happens when we take time for creative play in a community environment."
Stermer is particularly fond of Zinn's ability to see the good in things that others might not.
"What I like most about David's work is that it is playful and engaging. I love that he looks at an environment such as a cracked sidewalk or a clump of weeds growing along the pavement and he can envision a scene of characters," Stermer said.
"I prefer drawing on places that feel forgotten or ignored," Zinn said. "I also have a weakness for small moments of beauty, like a perfectly isolated tuft of grass or an unusually smooth rock."
Zinn's sidewalk chalk work began in 2001 with business logos, superheroes and cartoons. He has been a professional illustrator for 25 years but has been drawing ever since he can remember.
"When I started drawing in public, the question I got most often from people was, 'when did you start drawing?' the only response to that question is to say 'well, I started drawing when you started drawing'," Zinn said. "And the logical question for me to ask them is, 'when did you stop?'"
Zinn's specialty is anamorphic art, which is art that when looked at from certain angles, the drawing looks like it is standing on the sidewalk, peering around a corner or looking over the side of a wall.
"It doesn't sit quietly in a frame and wait for you to notice it. It's right there," Zinn said.
The exhibition begins Thursday, Sept. 1, through Wednesday, Sept. 28, and Zinn will be in town Thursday, Sept. 22, for the reception and presentation. He can also be spotted working on his artwork on the sidewalks of downtown Big Rapids and on campus.
"David's ability to create something joyful and playful in those spaces is a reminder to slow down, let your inner child escape once in awhile, be open to looking at your surroundings in a completely different way, and let your creative mind wander and be ignited," Stermer said.
Visit zinnart.com for more information.