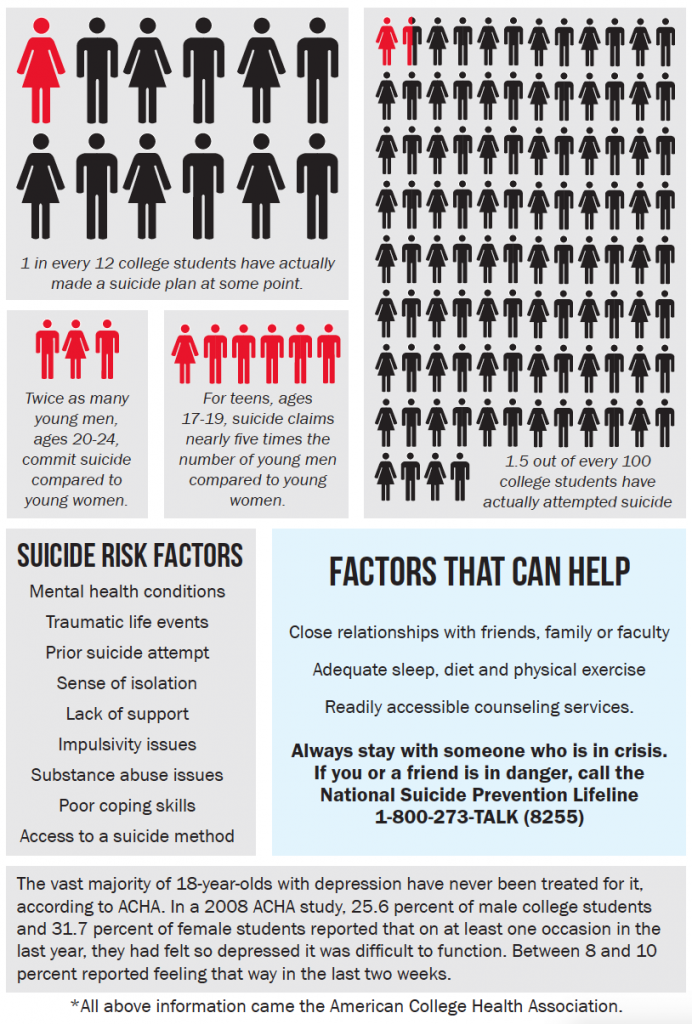 Students are no exception to suicidal thoughts or actions. As this continues to be an issue, measures have been taken to raise awareness on suicide prevention.
National Suicide Prevention Week began Monday, Sept. 5, and concludes Sunday, Sept. 11, one day after World Suicide Prevention day.
Elisa Pacheco Cotter, a Ferris counselor in the personal counseling center on the second floor of the Birkam Health Center, stated that per year, 5,079 young adults take their own lives.
"For every suicide death in young people, it is estimated that there are 100 plus attempts made," Cotter said.
The suicide rate for students on college campuses currently sits at 7.5 percent according to National Data on Campus Suicide and Depression. The majority of those deaths are male students.
"Suicide is the second leading cause of death among the young adults (15-24 years of age), after accidents (11, 836)," stated Cotter.
13 years ago, the International Association for Suicide Prevention (IASP) declared Sept 10, 2003, to be the first official World Suicide Prevention Day, in a major effort to bring international awareness to one of the most common killers of international youth. In 2011, an estimated 40 countries around the world participated in this event and that number continues to grow.
'Connect, communicate, care' will be the theme of this year's National Prevention Day, and it cannot fit any better into the system already existing here at Ferris.
Offered to students at no cost, Ferris State's main resource for mental health assistance is the personal counseling center, located on the second floor of Birkam Health Center.
"The Personal Counseling Center is a safe and confidential campus resource staffed with trained licensed mental health professionals," said Lindsay Barber, Director of Birkam Health Center and the Personal Counseling Center. "We are the primary resource on campus for any students in search of care for a multitude of mental health issues in order to foster academic and personal success."
Aside from the health center, residence halls and their staffs offer several of their own programs and personal assistance to their students regarding mental health.
"We hold certain programs that raise awareness for heavier topics, and suicide and mental health are included in those most of the time," said Bianca Broniec, Ferris music industry management (MIM) junior and Senior Resident Advisor (SRA) for Puterbaugh and Henderson Halls. Broniec also noted, "In our first floor meetings of the year, we try to emphasize the fact that we're available to talk whenever residents need. In addition, we can utilize our bulletin boards to raise awareness for suicide prevention."
One registered student organization (RSO) on campus that raises awareness for suicide prevention is Active Minds, an international group that raises awareness on suicide and is home to 413 chapters worldwide, expanding much farther than just the parameters of the Ferris campus.
Suicide awareness and prevention is not limited to this week. It is a non-stop effort to battle against a major issue surrounding youth worldwide.
To help raise awareness this week, the American Association of Suicidology encourages everyone to change their social media profile pictures to the 2016 ribbon for National Suicide Prevention Week.
"Remember, suicide is not the problem," Cotter said. "Suicide is the perceived solution to problems that seem unsolvable."