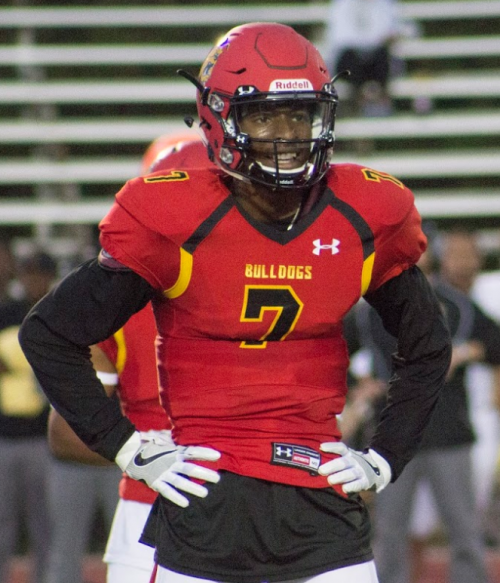 Last week we took a look at the three men vying for the title of Ferris State quarterback. Reggie Bell answered any questions still floating around as to who has what it takes to step up and lead the Dawgs.
The expression "big shoes to fill" was an understatement for the young men looking to start under center for the Bulldogs, but junior quarterback Reggie Bell grabbed those big shoes and slid into them comfortably.
A transfer student from Eastern Michigan University and a California native, Bell became a Bulldog in the spring of 2016. When the smoke cleared on the quarterback battle, Bell was standing tall after an amazing performance against the Panthers of Ohio Dominican in Ferris' season-opener at home.
It's tough denying the Cali native Top Dawg honors this week as Bell led his team in both passing (154) and rushing (102) yards for a combined 256 yards on the day. Bell scored three different times, recording two touchdown passes, both to senior receiver Jamel Lockett. His other score came on a 73-yard jaunt to the endzone, reminiscent of predecessor Jason Vander Laan, though maybe a bit speedier.
Bell was able to rack up all 256 of his total yards in just over three quarters of play, as senior quarterback Trevor Bermingham entered the game in the fourth quarter to relieve Bell. In last year's game against Ohio Dominican, JVL had 159 passing yards through four quarters of play—five more yards through the air than Bell had during the 2016-2017 season opener.
He may be a new face around Big Rapids, but Bell certainly made a statement when he played for Eastern Michigan University. During the 2014 season, Bell was one of only seven quarterbacks in the nation to lead his team in both rushing (562) and passing (1,297).
In order for Bell to get people's attention after the stalwart Vander Laan graduated and went on to the try his luck at the big leagues, he had to make a statement. Being at the forefront of a 41-0 victory for the Dawgs against the team that knocked Ferris State out of the playoff picture in 2014 is a good place for Bell to start his case for being the man under center.
Bell and the rest of the Dawgs will be on the road this week as they head north to Houghton to do battle with the Huskies of Michigan Tech. The game will begin at 1 p.m. Saturday, Sep. 10.