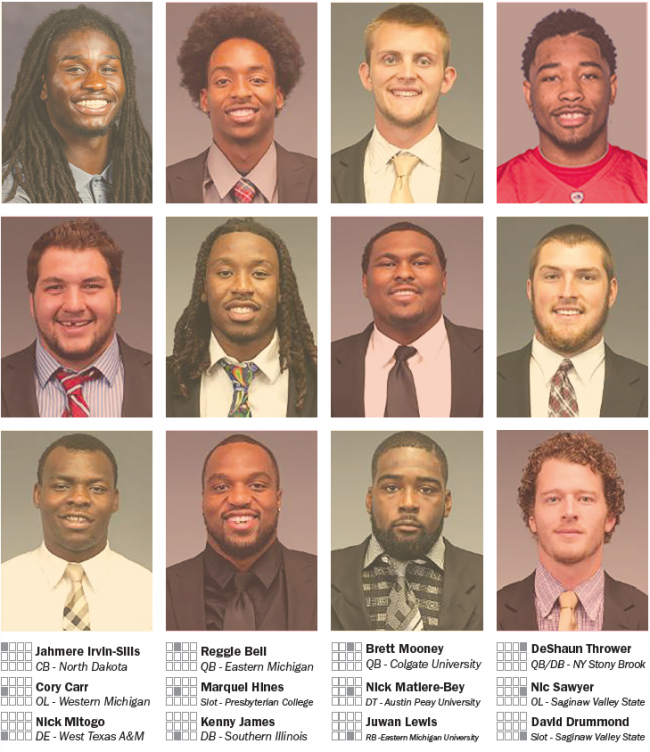 High school athletes from all over the world come to Ferris State to play under the Bulldog banner, but our successful football program can boast a few new names from the college level.
Ferris football has picked up a total of 12 different transfer students within the year. Those transfers include senior running back Juwan Lewis, junior quarterback Reggie Bell and most recently, Deshaun Thrower. Whether or not the transfer process was simple for each athlete is another story.
Bell and Lewis, both from the Div. 1 Eastern Michigan University Eagles, have just begun their first season with Ferris. Bell, originally from California, took over for Jason Vander Laan at the quarterback position this year and claims that getting used to the Ferris way wasn't tough.
"The transfer process was not difficult, it was actually pretty smooth," Bell said. "I knew some guys at Ferris already and when I finally got the chance to meet Coach Annese, we clicked right away. I came in and started studying the playbook right away with coaches and teammates, and that really helped me with the process a lot as well."
Bell has already won his first two starts under center for the Dawgs. Lewis, the other Eastern Michigan transfer, had to take a bit of a different route to Big Rapids.
"It was easy and hard, I left a lot of good friends and people from Eastern along with my wife who is moving back to our soon–to–be home in Ohio, but it was great because I was around a great competitive atmosphere," Lewis said.
As a running back, Lewis was highly recruited out of Muskegon High School as one of the top backs in the state. He said that the easier part of the transfer process had a lot to do with the fact that Head Coach Tony Annese has known Lewis since he was in diapers. Literally.
"Coach Annese and my father, Coach Tracy Lewis, have huge ties because they coached with each other all throughout my childhood," Lewis said. "Coach Annese can say he changed my diapers and has told me many stories about when I was a baby running around at practice in Ann Arbor before we moved to Muskegon."
Lewis credits Annese along with his father, his mothers Terri Simmons and Nilda Lewis, his wife Natalie Lewis and the Muskegon community where both he and Annese initially made names for themselves.
"The rest of the Ferris coaching staff have adjusted to me and I [to] them, they have given me many different lessons and are continuing to help me understand the Ferris State way," Lewis said.
The latest Dawg to make the hop to Ferris is Thrower, who played basketball at Stony Brook University, a Div. 1 school in New York. Thrower, also out of Muskegon High School, intends to play both football and basketball next year for Ferris. He was a huge part of the Big Red football team playing both quarterback and defensive back.
Though each man has a different transfer story, they all ended up at Ferris State where they have found a new home.
The football team will take another road trip this Saturday, Sep. 17, to take on Northwood in Midland with kickoff set for 1 p.m.