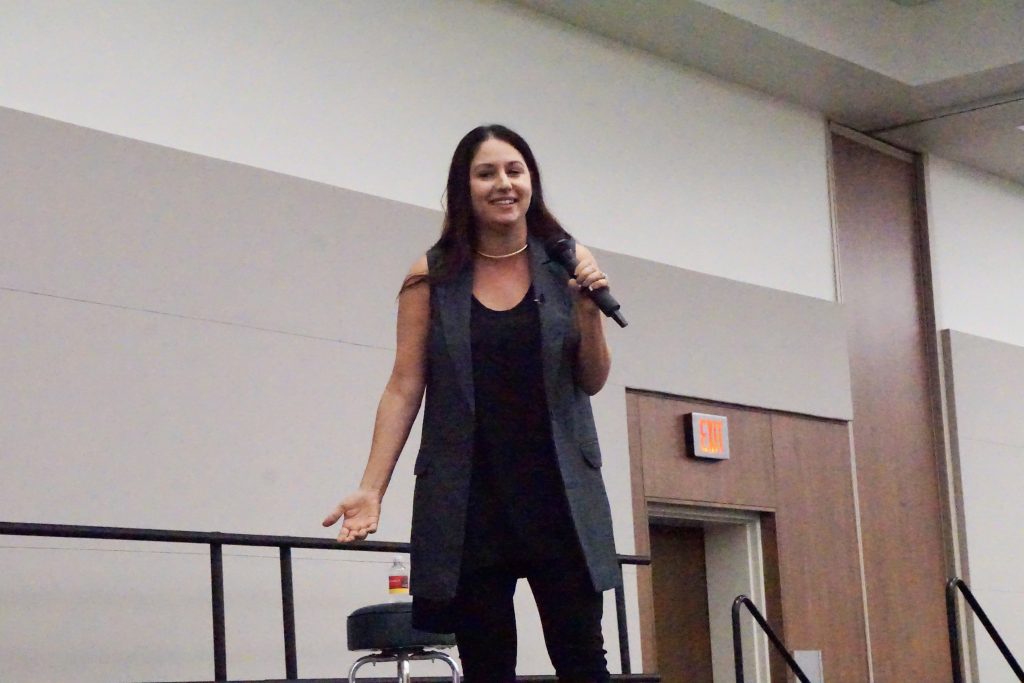 Helping students find internships and jobs are the expertise of Entertainment Unlimited's guest speaker to Ferris State University students seeking either this academic year.
Speaking to students at 7 p.m. on Tuesday, Sept. 13, was Lauren Berger, author and entrepreneur who built her own brand after taking on several internships throughout her college career.
"This is a good networking event for those who are asking, 'How can I get into an internship and network with other students?'" said Ferris hospitality senior Justin Stevenson. "From there they can ask more questions of others about internships. Basically, if you want to do an internship, how to do it, how to become successful, and what will motivate you to do another one."
Berger is the self-made Intern Queen who completed 15 internships during her college career at Florida State University and University of Central Florida. She interned with big media companies like Fox and MTV, and landed one of her first jobs at Creative Artists Agency in Los Angeles within two weeks of moving to California from Florida.
Now as an entrepreneur, she's made a brand for herself by organizing the knowledge she gained and making this information available for free to students through her websites internqueen.com and laurenbergerinc.com.
"I've pulled what I learned from every internship and watched what the executives I interned with did," said Berger. "I took what I learned from them and have made it all a part of my life today."
After she took the stage and built rapport with the room by talking about her college days, Berger started giving tips about how she landed her first internship at a public relations firm in Tallahassee as a freshman at Florida State University. This advice included how she responded immediately to the request for her résumé, but also how she dressed, the questions she prepared for and the importance of having a good thank you letter.
"This first internship really changed everything for me," said Berger. "I went to a very large school, and I was challenged in the internship in a way that I wasn't really challenged in the classroom, so it was a great way to put everything I was learning from the text books that I kind of understood to use in a professional setting."
Her next internship didn't come so easy. Berger said she applied for 118 summer internships in New York City, and was finally accepted to an internship during the summer after her freshman year working for a small newspaper.
While in New York City, after learning how to handle rejection, Berger learned the importance of not only networking with managers and professionals at internships, but also to network with fellow interns.
"Make sure you build solid connections with those friends you make at your internships because many of those people are the most successful people I know today," said Berger.
Some students thought Berger was entertaining and inspiring, and a few lined up to meet her after her presentation.
"Well, I learned that reaching out to people and keeping updated with them throughout the year will benefit you in the end," said Ferris health care administration senior Brittney Seapan.
Berger also teaches from a mnemonic device: "Ralph Called Taylor A Flirt."
Recognize when a contact is standing right in front of you.
Connect with them within 24 hours.
Track your professional contacts online with Google alerts.
Add value to all relationships.
Follow up and stay in touch with professional contacts three times per year.