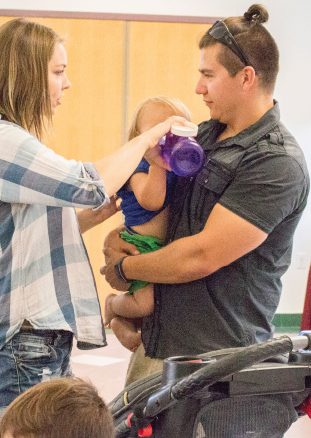 Being a college student has proven to be stressful for many, but being a parent on top of that doesn't even compare.
"Being a parent, for one, humbles you, it matures you. It matures you compared to where I was at first," said recent Ferris advertising and marketing graduate and mother Jasmine Barkley at the Students with Children Program's first meeting Thursday, Sept. 8.
The Students with Children Program works to support parents enrolled at Ferris by providing free social events, information, resources and even scholarships to its members and their children.
"We want to make sure that they know that support is here for them on campus and also to let them know that the same academic support is available to them as any other student," said Karen GreenBay, the director of the Students with Children Program and the Scholar Peer Mentor Program. "To be able to let the students know or the parents know that a degree is achievable and yes, it may take them a little longer but to let them know that they have the same opportunities as a traditional student."
Although Ferris offers family housing and daycare services, students and their children still face many challenges on campus.
"I am on a very long waiting list for Tots Place," said Ferris social work junior and mother, Nicole Griffith. "Day care outside of campus is $150 and you have to pay the whole week, you can't pay by the hour because I've called like 20 daycares between Evart and Cedar Springs and they are all by the week and all I need is a babysitter for like two hours a day."
Finding childcare during the day is perhaps the most challenging aspect for parents that are enrolled as students.
"Who's going to watch your children while you go to class? How are you going to prioritize homework with family time? I think that's one major issue that should be addressed. How to better equip the student to be a student while being family," said Ferris marketing sophomore and father of two, Todd Jones.
Despite having a program designed to help students with families, those individuals still can't help but feel overlooked sometimes.
"I feel like their attention is more on traditional students, which is okay because that's the way you get some of your students. But you also need to understand that we are students as well. We have more on our plate than the traditional student," Barkley said.
Another common issue arises in breastfeeding mothers, especially those who commute.
"At the moment, we don't have any source or facility like that to offer to our breastfeeding mothers," GreenBay said.
For more information, email studentswithchildren@nullferris.edu or search the Facebook page 'Students with Children' at Ferris State.