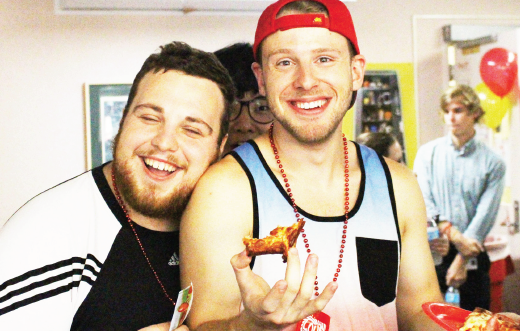 Birkam Health Center offered the chance to eat free pizza, win a $25 gift card and enjoy a free massage all at the same time, and many students took advantage.
On Sunday, Sept. 9, Birkam opened its doors to students and staff for their annual open house. Birkam Health Center Director Lindsay Barber is hoping to expand the health center's presence on campus, citing the open house as a step in the right direction.
"We really wanted to make sure to feature all of the services that we offer here and let students be able to see everything and meet the providers," Barber said. "We have two new providers that have been with us for less than six months, so we want people to understand who they're going to be seeing when they come in here for help and recognize faces."
Barber was also hoping to showcase renovations and updates made to Birkam's clinical rooms over the summer during the open house.
Ferris biology freshman Myree Grabes said that her and her friends came for the offerings of free food and activities, but also learned about Birkam's health services along the way.
"We got fliers in our mailbox and my friends were going. My friend wanted a massage, and pizza is always a plus!" Grabes said.
Barber believes that students cannot live up to their potential if their health is compromised, which is why she sees a health center on campus as a vital resource both during college and beyond.
"Our health is important in general, but I also really think it's important for student success. We can't really be our best in school if we aren't feeling our best in both physical health and mental health," Barber said. "We're here to help students be the best students that they can be and are offering some guidelines and education going forward so that when you get out of college you can make good decisions with your health and health care."
According to Barber, maintaining healthy levels of stress is the most important health tip for students to keep in mind.
"Really pay attention to stress and anxiety because stress can take a big toll both mentally and physically on you. As college students you kind of get a lot piled on you so it's really important to have outlets to be able to handle that stress," Barber said. "If you find that you can't cope with that anxiety and stress, that's why we're here."
In addition to visiting Birkam's counselors if stress becomes overwhelming, Barber also recommended working out, reading and hanging out with friends as some other potential activities to reduce stress.
Ferris accounting senior and Birkam student employee Dakota Cortez was just one of the pairs of hands–on– deck for Birkam's open house. Cortez sees the opportunity to work together to help students as the most rewarding aspect of his job.
"I check patients in, schedule appointments, answer phone calls and help the whole process go smoothly," Cortez said. "My favorite part of working here would be the connections with the staff. Getting to work together as a team gives a good feeling of cohesion when everything works out and we can help the patients."
Birkam's clinic is open Monday to Friday from 8:30- 11:30 a.m. and 1-4:30 p.m. Appointments can be scheduled by calling (231) 591-2614.