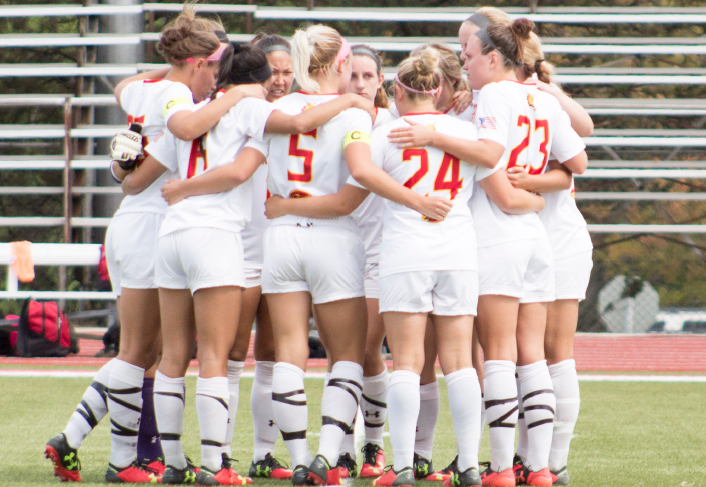 Ferris women's soccer lost seven seniors this offseason from last year's historic team and now has two seniors to lead a talented but inexperienced squad.
Defenders Kate Kelly and Meredith Smith are the only seniors on a young team that has gone 1-3 this season. Lack of chemistry and playing together has led to this slow start.
"We're still trying to find the starters we want," Smith said. "With time the girls will know what we're expecting and what we want."
The Bulldogs were swept this weekend on a road trip to Minnesota State and Winona State. Against Winona, the Bulldogs held a 2-1 lead going into the 88th minute. However, Winona delivered two goals within that minute for the win.
"We weren't comfortable with a 2-1 lead. It's the most dangerous lead you can have," Kelly said. "Our backline is definitely fresh down three starters from last year."
The inexperience of this team showed itself late in the game. However, those mistakes can be expected to be improved as the girls find their roles.
"We have a good freshman class," Kelly said. "We need them to step up and fill some of those positions we lost. Upperclassmen need to show them and take charge as well."
If the Bulldogs are to fix the mental mistakes, that could come from the leadership from seniors Kelly and Smith. Both players joined the team in the 2013-14 season and have stuck by each other since. They've seen leaders come and go but now it's their time to step up.
"As leaders, we need to keep high energy levels and keep the team united. I need to be a leader with communication on and off the field," Smith said.
Obviously, these girls haven't always been seniors and in a position to be expected to lead. They had to start somewhere.
Both Smith and Kelly were recruited by former Ferris head coach Matt Kellogg. Smith met Kellogg at a Grand Valley soccer camp and fell in love with the Bulldog program after a visit. Last year she tied former player Nichole Boenke for most points on the team with 13 points on six goals and seven assists.
Kelly met Kellogg at a camp in Indiana and was also enamoured with Ferris on her visit.
"It just seemed like a place I wanted to go. It wasn't too big or too small," Kelly said. "It's good that Ferris is away from home but also close enough that I can go home when I want to."
Kelly had a good friend on the 2013-14 Ferris team in Leanne Boehm. Boehm showed Kelly the reins and had a big impact on Kelly's decision to come to Ferris.
Essentially raised with soccer, Kelly started to play at the age of two. Her dad, Kevin Kelly, owns a few soccer complexes in the Detroit area and played collegiately for Oakland University.
While these girls are athletes, they are also Ferris students with future aspirations.
Smith is a dental hygiene major who will be done with her program in the spring. After, she will hope to find a job in her field, perhaps working at her dad's dental practice.
Kelly is a sports communication major and event management minor and will also graduate in the spring. She intends to work at sports stadiums, creating and hosting events. This is not set in stone as she also is considering physical therapy. At 1-3, the Bulldogs have a lot of work ahead. This team will look to the leadership of Kelly and Smith as their season continues to progress.