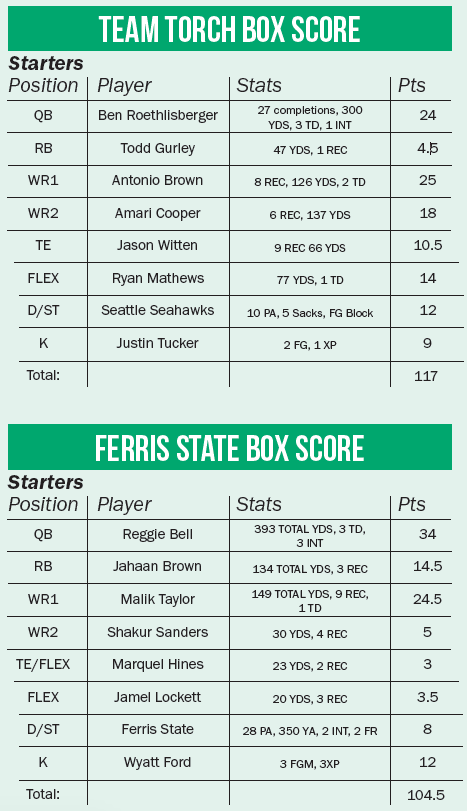 Ferris State football squeaked out a close 30-28 victory over Michigan Tech last week thanks to a game-winning 36-yard field goal in the waning seconds of the game by junior kicker Wyatt Ford.
It's a shame that the ESPN fantasy football format doesn't give out extra points for game-winning field goals, because that kick was worth a lot more than the three points that it earned in fantasy.
After analyzing the set-up of Ferris Fantasy Football, I realized that I should get rid of the tight end position all together, considering Ferris doesn't really utilize a tight end. So this week, I will just play with a quarterback, one running back, two wide receivers, a flex (QB/ WR/TE), a defense/special teams and a kicker.
Last week, Ferris quarterback Reggie Bell, running back Jahaan Brown and wide receiver Malik Taylor put up some pretty big numbers for the Bulldogs, but there was a slight fall off in performance outside of those three players.
To clarify, this is a Points Per Reception (PPR) league with ESPN standard scoring and a half a point for each reception.
I ended up winning by a score of 117 to 104.5 which puts my record against the Bulldogs at 1-0 so far this season.
Here is this week's lineup.
QB: Matthew Stafford, Detroit Lions –
Stafford put on an absolute clinic in a nail-biter against the Colts last week. Ever since the Lions hired offensive quarterback Jim Bob Cooter in the latter half of last year's season, Stafford's production has been much better than normal. Plus he'll be playing against a Tennessee Titans defense who gave up 25 points against Stafford's former backup Shaun Hill last week.
RB: Lamar Miller, Houston Texans –
Miller had a career-high 28 carries last week. With quarterback Brock Osweiler still learning the Houston system, I expect Miller to have a field day against a Kansas City Chiefs defense that did their best impression of Swiss cheese last week against the Chargers.
WR1: Marvin Jones, Detroit Lions –
If you keep up with Ferris Fantasy Football, you'll come to find that I love pairing quarterbacks and wide receivers to double up on points. This week is no different. Jones has huge big play ability and Stafford seems to love throwing the ball his way. Jones only caught four of his 10 targets last week but still had 85 receiving yards. I expect a couple more connections this week, maybe a couple for touchdowns.
WR2: Willie Snead, New Orleans Saints –
Snead played high school football in Muskegon for a couple years and had a career day last week, catching 9 passes for 172 yards and a touchdown. I don't see him stopping now.
FLEX: LaGarrette Blount, New England Patriots –
Blount carried the ball 22 times last week, which is abnormal for a Patriots team that threw the ball on two-thirds of their plays last season, but he looked good. He isn't going to break many huge runs, but he will consistently wear down the defense and is a good guy to look to close to the goal line.
D/ST: New York Jets –
The Jets play the Buffalo Bills this week. The Bills had 160 total yards last week. That is atrocious. That is all.
K: Blair Walsh, Minnesota Vikings –
Walsh may not be very clutch in the playoffs but this is only week two. The Vikings had a tough time getting the ball in the end zone last week and Walsh got six tries at field goals. I don't know if he'll get that many tries against the Packers but it should be plenty.
We'll see if I can come out on top again this week as the Bulldogs travel to Midland to take on Northwood at 1 p.m. on Saturday, Sept. 17.