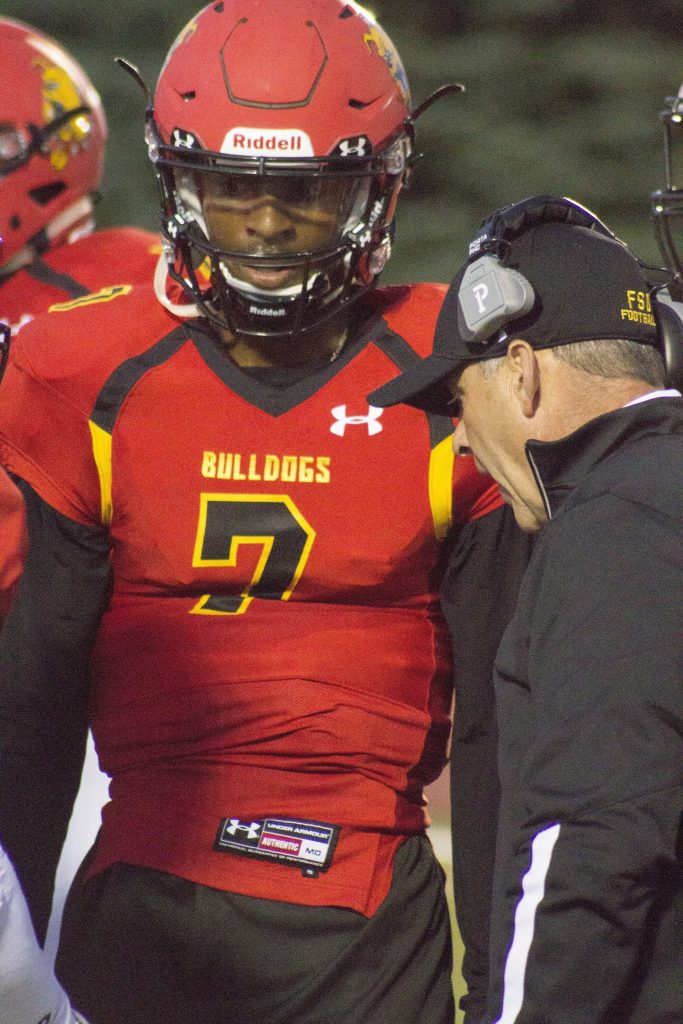 The Ferris State football team won their 28th straight regular season game, setting a new school record that stood for two decades. And they did it in on the last play of the game.
After squeezing out a last second win last week, Ferris State kept the Bulldog faithful on the edge of their seats again before Ferris quarterback Reggie Bell connected with Jajuan Pollock as time expired to win 27-26 over the Northwood Timberwolves.
Earlier in that same drive, it looked as if the game was all but over after Bell failed to complete a pass to Malik Taylor on fourth-and-9 late in the game, but the Bulldogs were given new life as Northwood was flagged for roughing the passer and Ferris was awarded an automatic first down.
After the penalty, the Bulldogs methodically worked their way down the field and scored the final touchdown on 4th and 2 from the five-yard-line with zero seconds left on the clock.
Prior to the last-second heroics, Ferris State got out to a shaky start, getting down 10-0 early in the game, but clawed back to take a 14-13 lead at halftime.
Northwood regained the lead in the third on a quarterback draw by Joe Garbarino to make the score 20-14.
The Timberwolves would score again on a 29-yard run by Vashon Nutt to take a two-score lead, but they failed to convert the two-point conversion and the game was stuck at 26-14 in favor of Northwood.
The Ferris offense struggled to get things going, but went to a little trickery and scored on a halfback pass when Jajuan Pollock hit Shakur Sanders for a 43-yard score at the end of the third quarter.
It looked as if the Bulldogs would score another touchdown early in the fourth quarter, but Bell's pass to Sanders was intercepted in bizarre fashion. Sanders seemed to have the ball as he dove backwards to make a catch in the end zone. When Sanders made contact with the ground, the ball popped up into the air and was picked off by Northwood defensive back Aryn Curtis.
It took until the last second of the game until Ferris could assure victory and move on to 3-0 on the season while Northwood's record dropped to 0-3.
The No. 6 ranked Bulldogs will return to Big Rapids for their homecoming game against Ashland next Saturday, Sept. 24 at 3:30 p.m. on Top Taggart field.