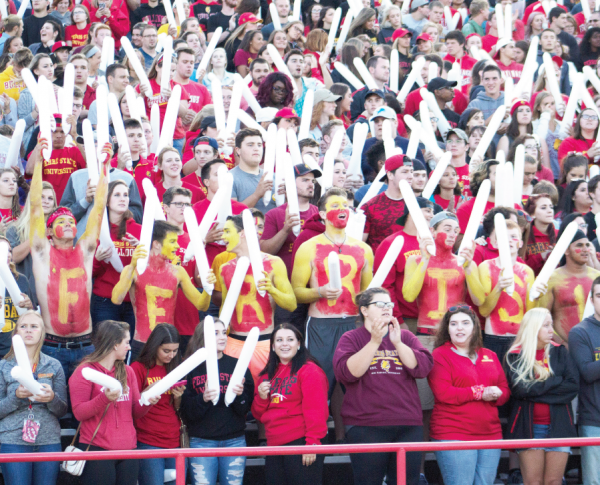 It may not have been easy but the Ferris State Bulldog football program has officially broken the school record for most consecutive regular-season wins.
In what was a stressful yet exciting game for any Bulldog football fan, the Dawgs triumphed over the Northwood Timberwolves 27-26 last Saturday for their 28th straight win in the regular season. The current team put in the work to finish the job that was started two years ago.
The previous streak of 27 wins held by a Bulldog football program came at a time before most of this year's Bulldog freshmen were even born. Between the span of 1993 to 1996, Ferris State football went 27-0 before being taken down by current rival Grand Valley State University.
Keith Otterbein was the head coach of that historic team before Jeff Pierce took over for him in 1995.
Senior receiver Shakur Sanders caught the 43-yard touchdown pass that shifted the momentum in the Dawg's favor on the way to their 28th win. Sanders talked about the feeling of being a piece of a team that has recently accomplished so much.
"It is an amazing feeling to be a part of an organization that came from nothing," Sanders said. "We have stabilized a tradition here for the athletes to come, and sometimes it is a lot of pressure every week because you know your opponent wants to give you their absolute best every play."
Sanders has seen action as a Bulldog now for four seasons and hopes to keep the momentum going.
"The only thing it is is God and having heart," Sanders said. "Persevering through all the negativity and making sure that we know every second that we are playing for our brothers next to us and that we have people that depend on us."
Kicker Wyatt Ford is a junior this year for the Dawgs and said that though the team is excited about the record, that is not where their focus is.
"It is one of those things that we try not to think about because if we get too caught up in it, we will start to begin focusing on the wrong things," Ford said. "It is a great goal to have, taking one game at a time, brick by brick, building a foundation. Yet, at the same time we know everyone in the GLIAC wants to beat the Bulldogs and ruin our streak."
Ford was responsible for Ferris' 27th win in which he kicked the game winning field goal in the waning moments of a 30-28 victory over Michigan Tech on Saturday, Sept. 10.
"Michigan Tech and Northwood both hit us in the mouth really good, but we kept moving forward together," Ford said. "What motivates me is to not only do it for my teammates, coaches and our school, but for guys previously who played and gave us this great opportunity. Great examples are Jason [Vander Laan] , Justin [Zimmer] and Jake [Lampman]."
The No. 6 ranked Bulldogs will put their 28-game win streak on the line this Saturday, Sept. 24th, for Homecoming, where they will be facing the Div. II No. 5 ranked Ashland Eagles on Top Taggart Field at 3:30 p.m.