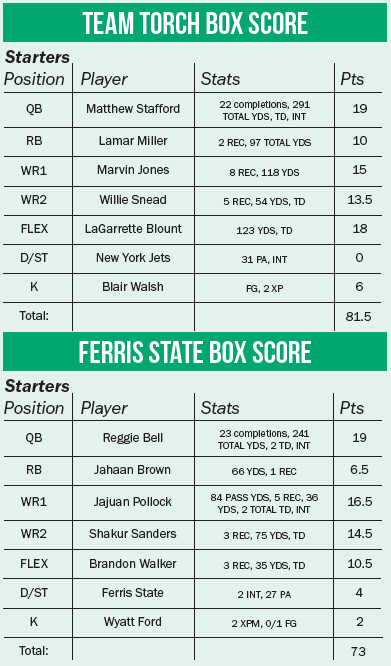 Ferris State football is 3-0 on the season, but 0-2 against me in Ferris Fantasy Football.
The Bulldogs once again won a close game this past weekend against the Northwood Timberwolves in a 27-26 last-second victory to keep their 28-game regular season winning streak alive.
Last week, I had a consistent team that put up pretty solid numbers across the board, with exception to the Jets defense who got tore up by the Buffalo Bills on Thursday night.
I only scored 81.5 points this week but slipped away with 81.5 to 73 victory. So technically, my fantasy team is the only group of players to beat the Bulldogs in the regular season since Hillsdale downed the Bulldogs on Oct. 19, 2013.
Now this may be a different platform but a win is a win, or at least I'll keep telling myself that.
In most weeks of fantasy football, it is tough for an "owner" to think of one play that virtually won the game for them but this week I can take a stab at it. Late in the first half of the game between the Detroit Lions and the Tennessee Titans, Lions quarterback Matthew Stafford connected with wide-receiver Marvin Jones for 47 yards, giving Jones 5.2 points on the play and Stafford 1.88, which combined for just over seven points, which is what I won by.
Anyway, here is my week three lineup:
QB: Philip Rivers, San Diego Chargers:
I'm going to be 100 percent honest. My faith in Rivers is typically very low, but I can't help but think that he will take advantage of a Colts defense that has given up an average of 37 points per game this season.
RB: DeAngelo Williams, Pittsburgh Steelers:
I expect Williams to show out in his last game as a starter before Le'Veon Bell returns to the depth chart after a suspension. Williams could probably start at running back for the majority of teams in the NFL. He'll be running against the 30th ranked rush defense in the Philadelphia Eagles.
WR1: Jordy Nelson, Green Bay Packers:
Nelson is Aaron Rodgers' preferred target, but he hasn't seen the end zone against the Lions since the last regular season game of the 2011 season where he caught nine passes for 162 yards and three touchdowns. Now I don't know if that will happen again but I wouldn't doubt it, considering the Lions secondary couldn't cover a twin sized mattress with a king sized comforter right now.
WR2: Stefon Diggs, Minnesota Vikings:
I was skeptical after week one with Diggs since he had Shaun Hill throwing him the ball, but after watching Sunday Night Football it is obvious that he is the number one guy in Minnesota's passing game and he now has Sam Bradford throwing him the ball. He has a tough matchup against the Panthers but I think he'll still excel.
FLEX: Travis Benjamin, San Diego Chargers:
With Keenan Allen out, Benjamin stepped up in a big way in week two and took the lead role at wide-out for the Chargers. He's freakishly athletic and has caught 14 of 15 passes that Rivers has thrown his way this season. Also, I'm doubling up with the Rivers-Benjamin combo.
D/ST: Tampa Bay Buccaneers:
The Bucs got worked on defense last week but they play the Los Angeles Rams this week. The same LA Rams who have scored a total of nine points in two games this season. If the Bucs can stop Todd Gurley like the 49ers and Seahawks have in weeks one and two, then they leave an inexperienced quarterback in either Case Keenum or rookie Jared Goff, depending on who the Rams decide gets the start on Sunday.
K: Cairo Santos, Kansas City Chiefs:
Santos has been great for the Chiefs so far this year. He is 6-6 through two games and has already made a 53-yarder.
This lineup will go up against the best of the best from Ferris State as they take on the Ashland Eagles in the homecoming match-up on Top Taggart field Saturday, Oct. 1, at 3:30 p.m.