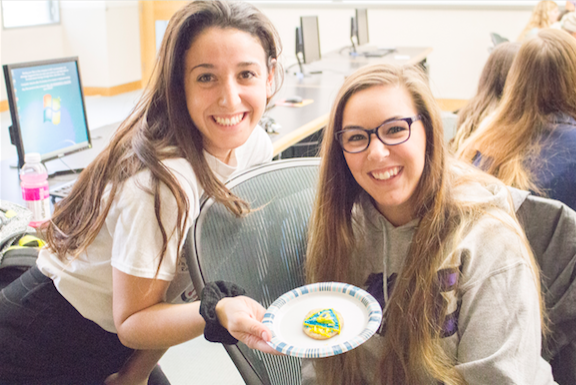 A new school year means more members eager to join Ferris State's Greek community.
Ferris is home to six social sororities, six professional fraternities and sororities, seven Interfraternity Council Fraternities, three Black Greek council sororities and two Black Greek Council Fraternities.
This all adds up to over 500 students participating in Greek Life according to Amber Kneibel, assistant director of the Center for Leadership, Activities and Career Services (CLACS) in an article entitled "Greek Organizations Gear Up for Recruitment."
Ferris public relations senior Jamie Baranek is the Vice President of Recruitment for the Panhellenic Council and the Marshal and Philanthropy Chair of her sorority, Alpha Xi Delta.
"I joined Alpha Xi Delta in the Fall of 2013, the first semester of my freshman year, and it completely changed my life for the better," Baranek said. "It made me so much more confident, shaped me into a leader from all of the positions I've had—and most importantly—let me meet some amazing people in and outside of Alpha Xi Delta."
Barenek explained that there is more to Greek Life than meets the eye. Alpha Xi Delta's national philanthropy is Autism Speaks, and all sororities received a cumulative grade point average of 3.09 in the Spring 2016 semester.
"There are so many misconceptions that I get asked [about] all the time by people who don't really know anything about being Greek and I always try to clear up and focus on the positives," Baranek said. "We really care about academics and making sure we all realize our full potential. The average GPA for all of the sororities on campus is higher than the average GPA of all the students at Ferris."
Ferris business administration junior Austin Felt is the President of the Pi Kappa Alpha fraternity. Felt particularly sees the value in being apart of the Greek community on campus.
"I love the constant interaction and networking with all the individuals that make up Greek Life and the people that we do everyday business with," Felt said.
Ferris healthcare systems administration senior Ashley Peterson is a member of Alpha Sigma Tau. She is also fond of the interactions between organizations and members.
"Being Greek is similar to being part of a giant network. Not only has it brought me a great amount of personal relationships, but also professional connections," Peterson said.
Peterson also enjoys the humanitarian side to Greek Life. Alpha Sigma Tau's national philanthropy is Habitat for Humanity and the organization participates in community events as well.
"My favorite part about being Greek is having the chance to give back not only to Ferris, but to the Big Rapids community," Peterson said. "We get to be a part of multiple events every year that help show our appreciation to them. We are also able to host our own events on campus. Every fall we host our own annual Anchor Slam volleyball tournament. It is a way for us to bring the community together for a great cause, but also a lot of fun."
While recruitment has come and gone, Baranek was especially enthusiastic about Bid Day, an event she had been planning since last December.
"The most exciting part about recruitment is seeing how happy and excited everyone is on the last day, bid day," Baranek said. "So much work and stress goes into it and seeing the outcome and the way everyone is just radiating with excitement and energy makes it all worth it."