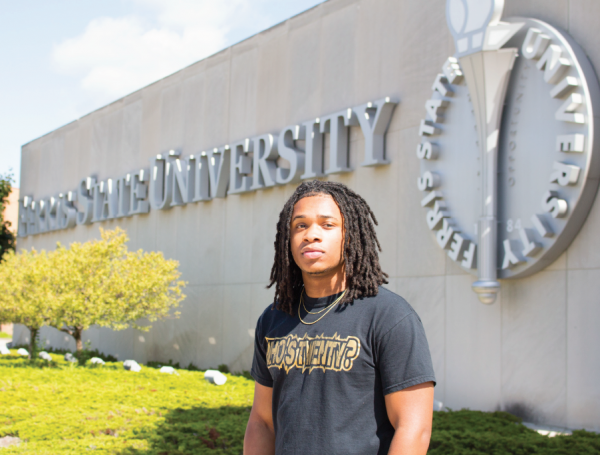 The hard work of Ferris rapper Duke Talley—who goes under the name Twenty—has paid off and his first full-length mixtape is finally here.
"Cool Is Kept" dropped at midnight on Friday Sept. 9. It is a 15-track collaboration with members of Key to the Streetz Entertainment, a group of fellow rappers from Talley's hometown of Flint. "Cool Is Kept" highlights his ability to keep cool and calm as so much chaos is happening around him.
"Throughout my whole life, I've always kept my cool through every situation. I do not let struggles get to me," said Talley, the 20-year-old music industry management junior.
"The name is all about me and my personality," Talley added. "The cover art captures me in my tranquility, writing music with protestors and the Flint water crisis going on around me."
"Cool Is Kept" opens with the title track and immediately sets the tone for the album. The feeling that he is about to open up his mind, heart and unleash pure pain is immediate. This continues into the next track, "Ambition," where Talley flows deeply into portraying his life in Flint.
Mixing in curveballs and party jams, "Cool Is Kept" does not lose its main focus. Re-occurring themes include the social injustice of black lives, politics, hardships of Flint, genuine love and appreciation for his friends and family as well as Talley keeping his cool during it all. "Slept On" does an excellent job of capturing all of this.
Talley's favorite song on the album is track 12, "I Got To."
"'I Got To' came together this past summer and once I heard the beat I knew it was going to be an important song," Talley said.
With the help of Key to the Streetz member JG, the lyrics were finally written to complete the track. A key moment in the song is when Talley raps about his mother moving out of the inner city of Flint but still too close for real comfort.
"The beat was going good so I let it marinate before I wrote any words" Talley said. "Once I passed the track around the group, JG came up with the chorus. After that, I knew it would be a hit, I knew I would love it."
Challenges and obstacles were faced and overcome by Talley throughout his whole musical journey. Although never blessed financially, he began recording at 12 years old on a homemade studio, and he started an incomplete project in 2012 called "End To The World."
"In my imagination, 'End To The World' was so good that I thought this would be the end of the world. I was working on it [at the] same time as the movie "2012" was out in theaters and my project paralleled the film," Talley said.
Unfortunately for the young rapper, all of his files for the project were lost during a hard drive crash before it could be completed.
In 2014, everything for Talley began to change. College had started, a new wave of hip-hop was emerging and Talley thoroughly began to focus on his future and wanted it be attached to the ever growing music industry.
In the fall of 2015, he made the switch from studying finance to the music industry management (MIM) program.
"I came to MIM to learn the business of music and use the knowledge I have gained to be applied to my own music," Talley said.
Now that the weight of completing his largest project to date is off of his shoulders, Talley is ready to focus on putting in the hard work to be successful in the music industry. The main goal is to fulfill his dream of becoming famous and continue making music.
"I was six or seven years old when I saw T.I. and Young Jeezy on TV in their glory, flashing money and wanted to do that. It all started when my sister's boyfriend at the time encouraged me to write my first rap song and even took me to a studio," Talley said.
Outside of making his own music, Talley aspires to work for Def Jam Recordings and eventually form his own record label. Talley expresses great thanks to advisor Dan Cronk and the MIM program for making such opportunities possible and having an expansive networking and internship system.
Download "Cool Is Kept" off of datpiff.com or stream the mixtape on Soundcloud and YouTube.