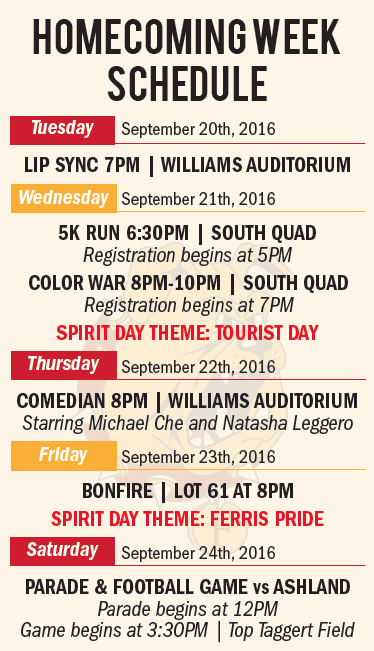 The homecoming season is here again and students are building up more spirit with each passing day.
Ferris State's Center for Leadership, Activities and Career Services (CLACS) has been planning homecoming activities since the spring semester, according to Ferris Student Activities Specialist, Teresa Fogel.
"A lot of them are traditional—things that we've done year after year. But we do try to switch them up every so often," Fogel said. "The parade is one of my favorites because the whole town gets involved in it. We line up at the middle school and the entries are people in the community and offices and student organizations from on campus and just a good variety."
Another one of Fogel's favorites is the 5K Color Run and War because all the proceeds go to United Way.
"The [5K] Run and Color War seems fun and I like running, so I might do that," said Ferris dental hygiene freshmen Dana Hochstein. "The bonfire and the parade and the game…that's just like typical homecoming stuff and it seems fun to celebrate and get the spirit going."
Homecoming week is jam-packed with activities aimed for students with different interests.
"They're going to be really nice," said Ferris welding engineer senior Hassan Altkroni. "We need to have different activities during homecoming week because one activity, or maybe two or three activities, might not be enough for everyone to go to. We have a lot of people who want to go to different activities and some people might like activities that other people might not like."
Some of the different events include kickball, a lip sync competition, comedians and a bonfire.
"I've been to the Lip Sync," Altkroni said. "It was really nice. People have a lot of energy and you see how many people work together for an event to win a prize. It's just amazing, I think."
The different activities are also a great way to introduce new students to campus life.
"I think they all look pretty cool," said James Ryan, a Ferris radiology freshman. "It seems different than most other places that just have a game and a dance but there's much more options here."
For many students, homecoming is an outlet for getting involved with the campus and connecting with their peers.
"Because it unites everyone on campus," Hochstein said. "Because even though we're all different, we're all the same in the sense that we're all bulldogs and we all attend Ferris."
For more information about the weeks event, go to ferris.edu/careerservices/ or visit the Center for Leadership, Activities and Career Services office on the first floor of the University Center.