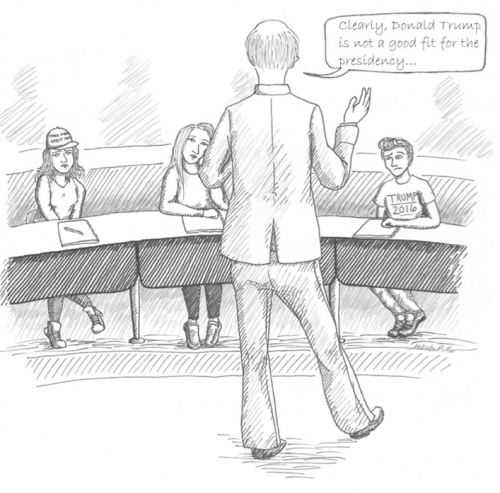 Tensions are high with the presidential election approaching in November and there is a common issue appearing not only on campus but all over the US: how do you interact respectfully with people that have vastly different political views than you?
Many people tend to have a hard time keeping their opinions to themselves. Some like to debate, while others try to persuade people into their beliefs. But Ferris State University has a number of programs attempting to educate faculty and students about elections and how to handle politics.
On Friday, Sept. 16, interested faculty and staff attended their first of six discussions to explore resources and views on how campus is dealing with the election.
"It's an informal group opportunity for faculty members who feel that political differences are a way of relating to one another. How we go about understanding people who have different views," said Julie Rowan from the Center for Teaching and Learning.
Political differences aren't a rare occurrence in the classroom, particularly at the college level. Although many professors try to keep their views out of discussions, that doesn't always stop them from spilling through.
"I am a Political Science student and I have always thought that the Political Science professors were the best when it comes to staying neutral and avoiding pressuring students into thinking certain ways," said Ferris political science senior Jake Law. "The professors that I have seen firsthand try to sway students a certain way have usually been sociology, psychology and philosophy professors."
Law even remembered a particular incident in which a professor took a break from course content to share his views on a historical political event.
"There was an ethics professor I had who dedicated an entire 50 minute period to ripping on the Bush/Cheney administration," said Law. "About the way they approached the war in Iraq. It had very little to do with the course."
According to Rowan, the discussions will also include analysis of different written works exploring psychological and moral reasons behind why people identify with specific aspects of different political platforms.
"It's not so much about solving political issues," Rowan said. "It's rooted in exploring some of the reasons behind why people hold the values, beliefs and ideas that they do."
In addition to the six week program for faculty, there are a number of other groups around campus geared toward engaging students in political discussion.
One such organization is the Political Engagement Project (PEP). Ferris communications professor Kristi Scholten is one of six faculty members that is involved with PEP. Scholten, like many staff and faculty members, has her own ideas as to how politics are, and how they should be, approached in the classroom.
"I think that some professors disengage or don't necessarily bring up specifically hot-button political topics because they know they're highly emotional and they know that students will get angry or upset or have very strong feelings, which obviously can derail whatever lesson is being taught that day," Scholten said. "But I also think there are just as many faculty members that embrace trying to bring those up in a very safe way where people are allowed to have a difference of opinion."
On top of PEP, there are the College Republicans and Young Americans for Liberty on campus. Law, however, admits that there is a hole where a democratic student organization ought to be.
"It would be nice to see the College Democrats return to campus so that our student body can feature both sides of the political spectrum," Law said.
PEP and the Mecosta County Democrats will be co-hosting a watch party for the first presidential debate on Monday, Sept. 26, from 8 p.m. to 10:30 p.m. The event is catered and is open to both the Ferris State community and the public.