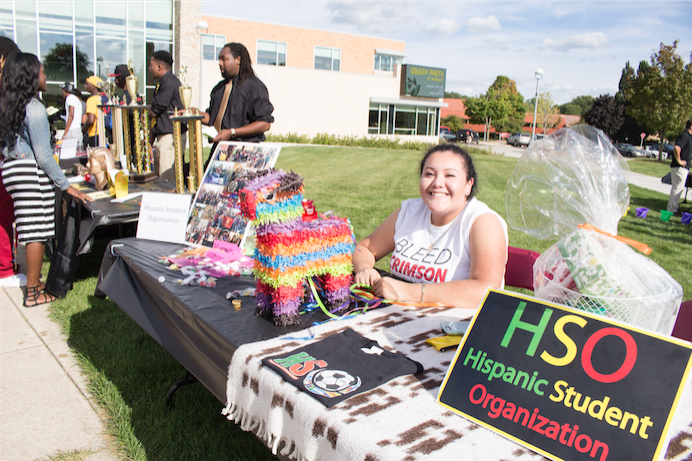 The Office of Multicultural Student Services (OMSS) hosted their annual "Minority Students Get Acquainted" event on Thursday, Sept. 15.
"The purpose of the annual event is we want minority students to come and see what resource's are open to them," said Matthew Chaney, the Director of the Office of Multicultural Student Services. "Another reason is for the students to see what minority student registered student organizations are offered."
According to Chaney, OMSS has sponsored the event for nearly 30 years and it is a fun festive event open to all students to get acquainted on campus.
Students that attended the event had the chance to win free prizes while enjoying free food.
"This year we had 30 organizations and departments registered to have a table, and we always hover right around 30 or 40 tables," Chaney said.
Alpha Kappa Alpha Sorority Inc., Zeta Epsilon chapter, hosted one of the 30 tables at "Minority Students Get Acquainted" and according to Tiyler Rush, a Ferris senior in healthcare systems administration and a general member of the organization, their goal for attending the event was to get the word out about joining organizations on campus.
"It doesn't need to be a fraternity or a sorority, but any organization to get familiar with campus and so you wont be alone," Rush said.
Rush enjoyed attending the event to meet new faces, and to help promote her organization in hope to publicize what Alpha Kappa Alpha Sorority Inc., has to offer potential members.
"I have attended the event every year I've been on campus, and I love it," Rush said. "I especially love the fact that it is outside this year. We can catch people on their way through the quad, and I hope that it gets bigger and better in the years to come."
You Beautiful Black Woman (YBBW) was another organization with a table at the event in hopes of supporting minorities on campus and to promote their organization.
"I wanted You Beautiful Black Woman to be at this event because of all the freshman that attend and we can promote our organization and get to know the people that attend," said Jada Dill, a sophomore in public relations and the current sergeant at arms for her organization.
Dill hoped to gain members to bring girls together for sisterhood and to get new sisters.
"This event shows what organizations from OMSS are really about," Dill said. "It is a really nice event for everybody."