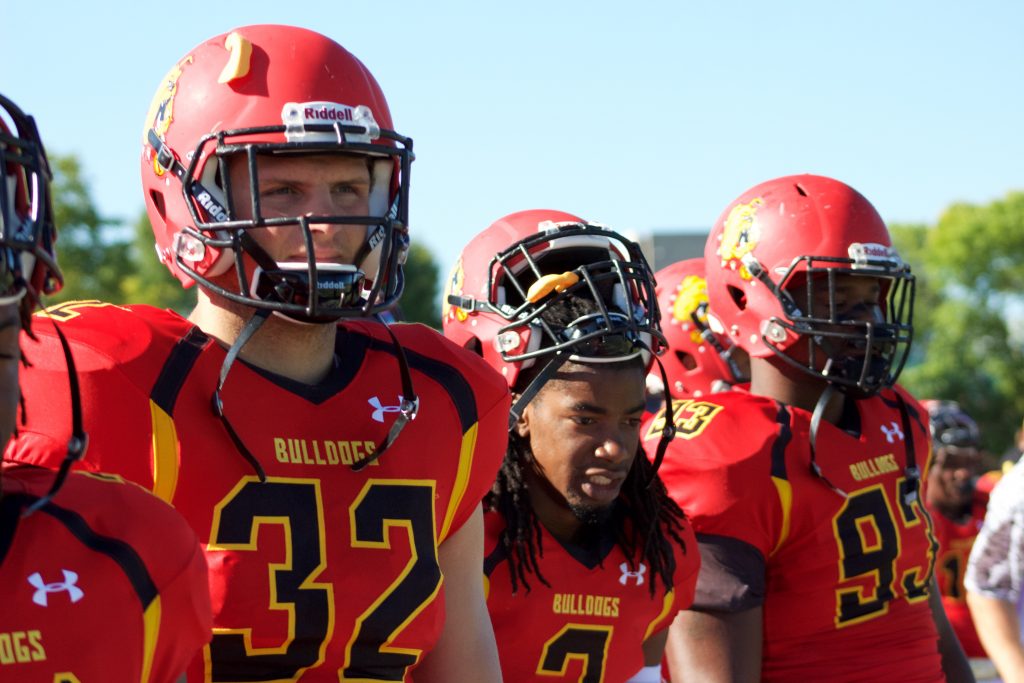 Ferris Football fell 39-31 to the No. 5 Ashland Eagles in a fourth quarter thriller on Homecoming night ending a 28-game regular season winning streak.
The Dawgs were in position to repeat last week's final play touchdown, but they came up short, thus ending a winning streak that had stood since Oct. 26 of 2013.
Early on it looked like the Eagles would roll as they scored on their first two drives. Several big plays left the Bulldogs looking out of sync. Ferris fell behind 3-14.
However, the Bulldogs began to slash the Eagles by committee as they gained 224 yards rushing in the first half. Running backs Jahaan Brown and Robert Thomas III, as well as Jajuan Pollock and Trevor Bermingham contributed to 28 unanswered points to go up 31-14 in the second quarter.
Ashland started the second half as strongly as the first. The Eagles threw a 70-yard pass to tight end Adam Shaheen. The junior outran the entire Bulldogs' secondary despite his 6-foot-6, 277 pound size to bring the score to 31-23. He finished with 152 yards receiving and a touchdown on the day.
The Bulldogs would give the Eagles even more hope as Ferris failed to convert a fourth and one run deep in Ashland territory. The Eagles carved their way to the Ferris 32 when a Ferris defensive breakdown allowed a free running receiver in the middle of the field for a touchdown. Ashland went up 32-31 after a failed two-point conversion.
Ferris junior quarterback Reggie Bell got sacked and fumbled on the following possession leading to a scoop and score by Eagle linebacker Brandon Gency which put Ashland up 39-31.
The Dawgs managed to make it to the Ashland 30 yard line for the final play of the game down eight points, but the pass, as well as Ferris' regular season win streak, was broken up.
Bell had a stellar day despite the result with 134 yards rushing and 261 yards passing, going 21 for 34. Brown was the second leading rusher with 115 yards.
Sanders led Ferris receivers with 97 yards and several first down pick-ups.
Senior linebacker Anthony Darkangelo led the defense with 11 tackles and junior cornerback Tavierre Thomas had 7. Junior safety Willie Smith added an interception.
The Bulldogs will be looking to begin a new win streak from scratch next week when they head to Ohio to play Findlay under the lights on Oct. 1 at 7 p.m.