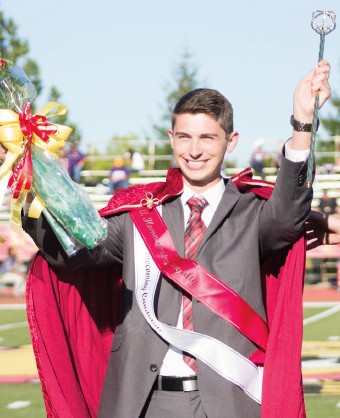 Homecoming brought the school to life last week as Bulldogs were busy attending the daily events put on by the Ferris State Center for Leadership, Activities and Career Services (CLACS).
"I would say that if you don't come then you're not really getting the experience of Ferris," said Ferris respiratory therapy senior, Sarah Baldwin. "I'm always a school spirited person, and just for being my last year, I want to get involved as much as I can with homecoming."
CLACS began the week with a kickball tournament and lip sync followed by a 5K Color Run and War in the South Quad on Wednesday. All the proceeds from the 5K registrations were donated to United Way.
"It was good; it was tough," said Ferris biology senior, Lisa Raney. "I've always enjoyed running a little bit and this summer I challenged myself by running in my first 5K and I decided I'd like to try a few more, so I heard about this one and signed up."
The first place winner was Ferris computer information systems senior, Kyle Reamer, who thought the race was outlined pretty well.
"We're a part of the Ferris State Running Club so people post on our page about races on campus," Reamer said. "We really trained a lot for this race. We always run down at the Rock at six o'clock every day, so it really helped us out."
Thursday night at 8 p.m., the Williams Auditorium filled with students excited to hear comedians Michael Che and Natasha Leggero, an event that was free for students to attend.
Both Leggero and Che interacted with the students. Leggero even invited a couple students to the stage to set them up on a date, calling a restaurant in the process.
Bulldogs celebrated their Friday night in Lot 61 at a large homecoming bonfire that included a live DJ, snacks and drinks for all students who attended.
The final homecoming event was Saturday's football game against Ashland at Top Taggert field. Students, alumni and community members packed the stadium to show their school spirit.
At half time, Ferris hospitality and restaurant management senior Wayne Bersano was crowned homecoming royalty. The candidates included Jamie Baranek, Alyssa Bodrie, Andrea Lenhart and Alex Reeds.
"I feel absolutely honored that the student body of Ferris State University chose me to be there representative for 2016 homecoming royalty," Bersano said. "It was just an incredible experience that I think just really rounded off my entire Ferris experience."
This year's celebration was the 90th homecoming for Ferris State University and it brought spirit to many throughout Ferris and the Big Rapids Community.