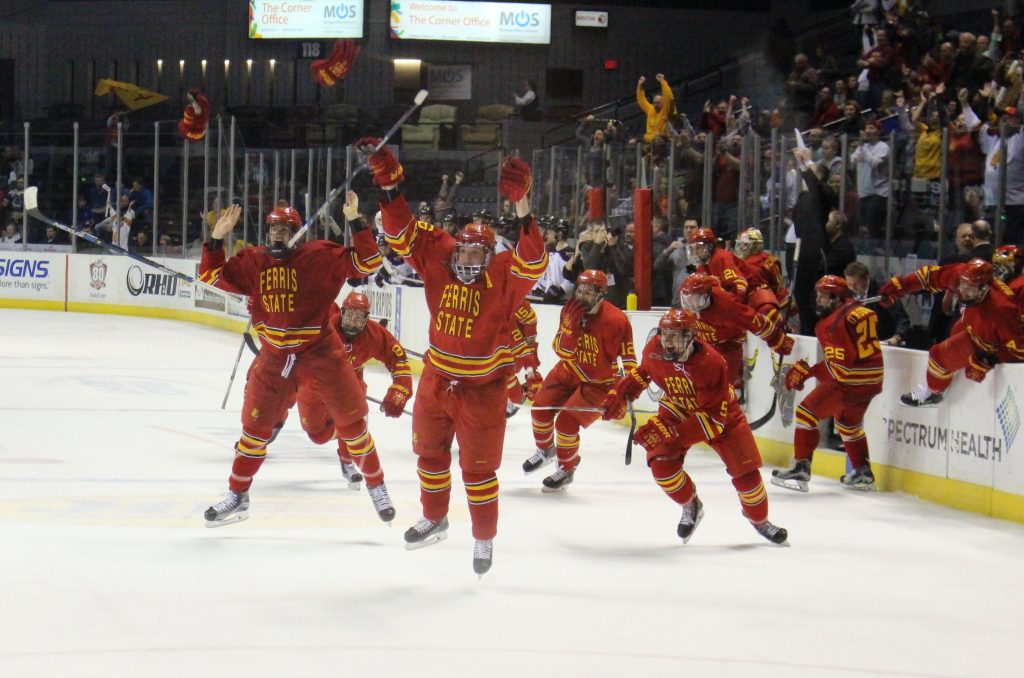 Students at Ferris State get excited for three things when October rolls around; Halloween festivities, pumpkin spice lattes and Bulldog hockey.
With a record of 25-15-6 and a berth in the West Regional Final of the NCAA Tournament, the Dawgs put out an impressive 2015-16 season that only built on their already great legacy. With the graduation of Simon Denis, this year marks the first that no player from the 2011-12 National Championship runner-up team will be a part of the program.
Junior forward Drew Dorantes put in eight goals last year for the Dawgs, and despite the loss of some great seniors, he is excited for what is to come.
"It is always tough losing your seniors, the bonds you make with them are extremely special because they have been through just about everything," Dorantes said. "We were fortunate however to only lose five, so as a group we return a lot of talented players."
The 2015-16 season saw numerous freshmen step up and Dorantes is hopeful for that this year as well.
"We also have a strong freshman class that came in," Dorantes said. "Combining everyone together, we have an extremely motivated team that I think fans will really enjoy watching this year."
The Bulldogs will be returning the man that led the team in scoring with 16 goals last year: senior forward Gerald Mayhew. Mayhew was also selected as the 2016- 17 Preseason Player of the Year for the WCHA. Sophomore forward Corey Mackin is also returning for the Bulldogs, a man who won the WCHA Rookie of the Year award last season.
Another huge part of the Dawgs' first ever WCHA Tournament Championship last year was sophomore goaltender Darren Smith. Last year as a freshman, Smith came in early on and was later determined to be the 2015-16 best rookie goaltender in the nation according to College Hockey News. He was also named MVP of the WCHA Tournament last season. Smith talked about how this year's team is a tightknit Bulldog crew.
"We are a pretty close team, we spend almost every day together, all the guys get along really well and I believe it has always been like that in previous years," Smith said. "The coaches do a great job of recruiting guys that are not only talented players, but also good teammates."
Last year Smith totaled 836 saves, 585 of those coming in conference.
"You can see it translate on the ice, it helps the chemistry throughout the lines," said Smith. "The guys are having fun playing together and it makes us want to come to the rink every day and work hard."
As for the man with the best record in Ferris history, Head Coach Bob Daniels will be heading into his 25th season with the Dawgs. Daniels' name alone is a big contributor to the great recruits that Ferris State continues to gather, and Dorantes elaborated on that.
"His teams always have a tough edge to them and I think our style of play doesn't resonate well with other teams," said Dorantes of Daniels. "His teams are always good at the simple details such as being the hardest working team on the ice, finishing checks, and making tape to tape passes. Personally, he has taught me to play with pace, always keeping my feet moving, and he has pushed me to shoot the puck in the offensive zone."
The Ferris State Bulldog hockey team is finally back in action on Saturday, Oct. 1 with a hungry group of guys. The Dawgs will be taking on Alabama-Huntsville, a team that the Dawgs went 1-0- 1 against last season, at 5:07 p.m. in Big Rapids in Ewigleben Ice Arena.