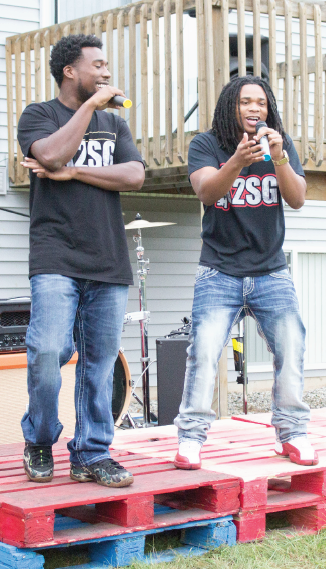 A night of music lit up the back quad of Oakwood on Friday Sept. 23, with the help of light and sound provided by CHoFF Entertainment.
The outdoor concert was created and organized for the purpose of Ferris artists performing their music outside as the summer has finally come to a close.
Ferris public relations senior Christian Hoffer called Sundown a "forward thinking multi-genre musical extravaganza to showcase the hard work students put into their music."
The night formally kicked off at 6 p.m. with Duke "Twenty" Talley and his hometown collaborator PMoe on a makeshift stage of wooden pallets. DJ CHoFF mixed the beats on his own setup atop the backdoor porch. The crowd gradually increased as Twenty performed seven tracks from his recently released mixtape, "Cool Is Kept," without taking a breath.
"I loved it. I loved the rush," Talley said as he came off the stage with a smile.
Next up was energetic rapper and Ferris student Denerro Thornton, known as Toronto Young. Toronto Young's charisma on stage was undeniable. One of the most intriguing parts of the whole show was just watching the speed he had in the release of his vocals.
Ferris alternative rock band City Sun followed Toronto Young. City Sun is led by front man Devin Vargo, with Patrick Cunningham on bass, Nathan Seifferly on drums and recent addition Steve Rhein contributing rhythm guitar.
Trademark City Sun cover tracks included "Your Graduation" by Modern Baseball and "Laugh Till I Cry" by The Front Bottoms. They also performed "Closer" by rising DJ duo The Chainsmokers.
City Sun closed with a cover of "All These Things That I've Done" by The Killers. This was a great way to finish out their set and much of the crowd sang along, especially to the repeated line, "I got soul, but I'm not a soldier."
"Sitting on the second story windowsill during all these things was my favorite moment of the set," Vargo said. He added, "When I look at someone in the eyes and see them singing along with me, it is the greatest possible feeling for me."
Recent music industry management graduate and rapper Oseia Blanding "OSHEA" Davaun made his Ferris return and closed out Sundown while CHoFF assisted with the beats and backing vocals. The lights were on as the sun set and the crowd was at its largest. OSHEA's next album, "Motor City Rose," is to be released Wednesday, Sept. 28, and he unveiled it Friday night including the single "Night on Pelkey St."—a memory of a near-death experience when Blanding was nine years old.
"Pay attention to the story," Blanding said. "I am a boy from Detroit surrounded by negativity. I chose to stay positive. I chose to go to college and get a degree."
Blanding added, "The most important thing I want listeners to take away from the album is to feel the love."
One of the most impressive moments of OSHEA's set was an a cappella verse on police brutality, which ignited a certain feeling on the situation for listeners to want change.
According to Ferris music industry management and public relations junior Chandler Owen, OSHEA was her favorite artist of the night.
"He interacted with the audience very well. Also, OSHEA engaged women well and made them feel important," Owen said.
Owen refers to Blanding leaving the stage to sing directly in front of fans as he distributed over a dozen red roses.
Ferris business administration junior Lindsey Meisel enjoyed this event for its personal nature and because it was completely organized by students, with no administration involvement.
"It was promoted by the students for the students. If you heard about it, you were there," Meisel said.