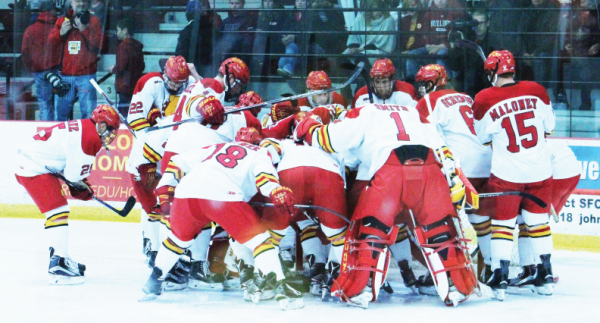 With the hockey season quickly approaching, some Ferris students are hosting a pep rally for the Bulldogs in preparation for their 2016-2017 campaign.
The idea came to fruition thanks to Ferris State communications professor Dr. Sandra Alspach and the Sports Careers registered student organization (RSO).
According to a press release from the Sports Careers RSO, headlining the pep rally will be Dr. Adam Earnheardt, an associate professor in the Department of Communication at Youngstown State University. Earnheardt has published numerous research pieces and co-authored many books on the subject of sports fandom, including his most recent book that he co-wrote in 2015 called, "The ESPN Effect: Exploring the Worldwide Leader in Sports."
During the pep rally, Earnheardt will be discussing the importance of fandom and the fan's role in propelling their team to victory.
Students can expect to meet the hockey team, including head coach Bob Daniels, while also getting to know fellow Dawg Pound members and other fans, including new Dawg Pound leader, Alex Colville.
Colville, a Ferris secondary education senior said, "I'm excited to hear [Earnheardt]. I really want to learn how to connect with the student section, so hopefully he'll give me some insight on how to do it properly."
Colville will also be doing some speaking of his own at the pep rally.
"I'm going to run down all of the chants and how the game goes and everything so that these freshmen coming in don't feel like freshmen anymore, they feel like part of a greater student section," Colville said.
Colville also said that there will be a lot of changes this upcoming season as well.
Ferris sports communication senior and Sports Careers RSO member Alex Freeman is helping run the rally with Dr. Alspach and other RSO members.
"Back in the day, there was a gathering for the Dawg Pound to come pick up their Dawg Pound shirts, and they did something kind of similar to this that disappeared in the last year so we wanted to recreate this and get them all together to get their shirts and meet the team," Freeman said.
The pep rally is open to all Ferris students and the Big Rapids community as well. Current season ticket holders and Dawg Pound members are encouraged to come and cheer on the Bulldogs while they get ready for their season opener at Ewigleben Ice Arena against Alabama-Huntsville Saturday, Oct. 1.
The pep rally is free and open to the public. It will take place this Thursday, Sept. 29 in Wink Arena from 7:30 p.m. to 8:30 p.m.