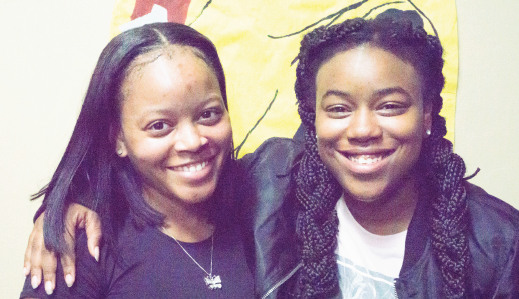 Working to empower women at Ferris State University for the last 10 years, You Beautiful Black Woman (YBBW) recently held an event to create personal vision boards and meet new students.
The organization grew out of an annual women's conference, according to Ferris graphic design junior and YBBW vice president, Todd'Nita Taylor. The group was formed to gain sisterhood, learn new things, build relationships and encourage campus involvement.
While the group is named 'You Beautiful Black Woman,' Taylor stressed that it is not just for women of African American descent but anyone who wants to join.
"My favorite part is learning about other people," said Ferris business administration senior and YBBW president Taylor Williamson, who joined because a friend encouraged her to get involved. "When you get in the real world, you're going to work with different types of people. Being diverse and knowing how to adapt to those types of situations and teach others what I know about that is definitely a plus for me."
"Just being here helped me learn a lot of things, helped me grow as a person," Taylor said, who credits joining YBBW as the best decision she has made at Ferris. "I'm more comfortable with meeting new people, talking to strangers and just building relationships with people I probably would never have spoken to."
Both Taylor and Williamson credit YBBW for teaching them how to dress and act professionally, as well as learning how to network, compose professional communications and get involved.
"I feel like we can definitely teach people some things that they won't learn inside of a classroom," Williamson said. "In the classrooms you learn the book stuff, but they don't teach you how to work with someone that you may not like, they don't teach you how to put on an event or do something that you can actually use in the future; something you will use outside school or the classroom."
"It's an awesome learning experience," Taylor said. "You learn so many things, you meet so many people. The connections are awesome. You meet people with different majors, so you're building relationships with people that will help you in the future."
YBBW will host its fall informational Monday, Oct. 3, in FLITE 135 at 8 p.m., and its annual lock-in to support the fight against breast cancer from 10 p.m. to 2 a.m. Friday, Nov. 4, at the University Recreation Center.