Street artist David Zinn displayed his 3-D chalk art to the participation and enjoyment of Ferris State and the community Thursday, Sept. 22, in the Ferris State University Fine Art Gallery.
There were 22 pieces of his art on display and for purchase throughout the gallery, including framed illustrations and urban chalk art.
"I would describe my work as childish temporary street art," Zinn said. "In a way it looks 3-D from one specific viewpoint; better known as anamorphic art."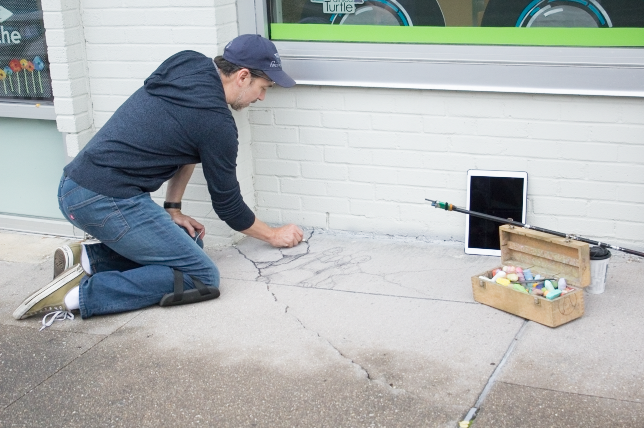 The Anamorphic art origins date back to the 15th century. It is characterized as art that has to be viewed from an unusual perspective, and gives the subject the appearance of standing, sitting or leaning.
"I'm the only person I know who draws small-scale anamorphic art," Zinn said. "A lot of people come up to me and say, 'Do you know how to make the sidewalks look like a huge tavern?' and I tell them no because it's hard to improvise something huge."
Zinn's theme for his art is centered mostly around small animals and creatures—mice and frogs, for example.
Ferris communications freshman Taylor Wildeboer said it was her first time viewing sidewalk chalk art and she really enjoyed it.
"I've always been around art because my mom was painter. She used to go to people's houses and paint murals on their walls," Wildeboer said.
Wildeboer also said that she could see herself attending more art exhibits like Zinn's because it's a fun atmosphere.
Zinn's presentation at the Ferris Fine Art Gallery was his first time having his work displayed in a formal setting.
"I prefer to do my art on the sidewalk then just walk away. This is a rare opportunity that Ferris State University has given me to actually put it on the wall and treat it with seriousness," Zinn said.
For more information on David Zinn and his artwork, visit zinnart.com.