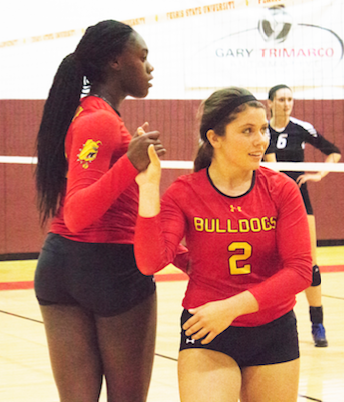 The Ferris State volleyball team is confident and it shows as they have clawed their way to an 8-5 record to start the season.
The Bulldogs came into the season hoping to not only repeat the success they had last year, but build team chemistry. In 2015, the volleyball team posted a 33-3 record and absolutely dominated the Great Lakes Intercollegiate Conference (GLIAC) division with a record of 17-1. However, repeating their success in 2016 didn't appear to be as easy after losing four key players including outside hitter Megan Vander Meer.
After struggling earlier in the season, it seems they have finally found their rhythm as the Bulldogs are in the midst of a four game winning streak. Head coach Tia Brandel-Wilhelm has done a great job of rolling with the punches as her team is 2-1 in division play.
"We just try to get better each and every day," Brandel-Wilhelm said. "The team has been working very hard to improve and is focused on competing in every match. In order to continue our recent success, we need to continue to communicate well and adapt to everything the opponent throws at us."
With a team that looks to be coming together quite nicely, it's hard to find many flaws in their play. In fact, it seems the scariest thing for Ferris opponents is that the FSU volleyball team can only get better and senior setter Jenna Way knows it.
"We have a lot of room to grow," Way said. "We haven't reached our peak as a team yet, but as long as we continue to prepare ourselves through film sessions and practice, we should peak at the end of the season when it matters most."
For any team, reaching a peak can spell bad news for their opponent. If the Bulldog volleyball team can reach their peak come tournament time, they could be competing yet again for a GLIAC title. With four consecutive matches against conference opponents lined up, the Bulldogs will need to fight for wins in order to stay competitive within the division.
The Ferris State Bulldog volleyball team will look to continue improving as they take on Lake Erie Friday, Sept. 30 at 7 p.m. in Plainville, Ohio.