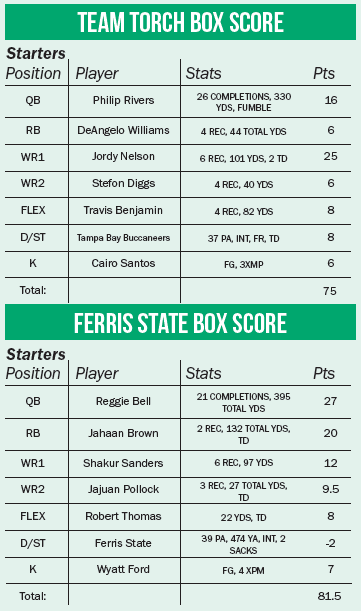 While the Ferris State football team were handed their first loss of the season, and their first in 29 regular season games, I was handed my first loss to the Bulldogs in this week's edition of Ferris Fantasy Football.
While the No. 7 ranked Bulldogs were downed by No. 5 Ashland 39-31, I was taken down by the Bulldogs 81.5 to 75, putting me at 2-1 in the fantasy football season. If it weren't for Jordy Nelson, it wouldn't have even been close, but thanks to his two touchdowns and 100 plus yard receiving day, I made it respectable.
Although Reggie Bell didn't have any touchdowns, he made a big impact on the game with 395 all-purpose yards, combined with his 21 pass completions, he led the Bulldogs with 27 fantasy points
Hopefully next week will be better for both of us and we can add another tally to the win column.
Here's my lineup for next week, we can see how Team Torch will compete with the Bulldogs as they travel to Ohio to take on Findlay Saturday, Oct. 1, at 7 p.m.
QB: Drew Brees, New Orleans Saints:
Brees and the Saints live to throw the ball, and against a weak San Diego defense, I think he'll make a fool of the Chargers secondary. Bold prediction: he'll throw plenty of touchdowns, maybe even five.
RB: Le'Veon Bell, Pittsburgh Steelers:
Bell is one of the most versatile backs in the NFL, able to run over or around defenders and catch passes out of the backfield. He'll be playing in his first game of the year against the Chiefs in week four after returning from a suspension. Le'Veon Bell with fresh legs is scary for any opposing defense.
WR1: Brandin Cooks, New Orleans Saints:
Once again, I'm doubling up on the quarterback and wide receiver connection. Cooks is one of Brees' favorite targets and he is fast, fast, fast. Expect a couple big plays from him next week and a lot of catches.
WR2: Doug Baldwin, Seattle Seahawks:
Baldwin is a threat every time he steps on the field. Seahawks quarterback Russell Wilson loves looking his way too, and lightning-quick Baldwin will likely be head-to-head with the Jets' Darrelle Revis, who seems to have lost a couple steps in the past season.
FLEX: Cole Beasley, Dallas Cowboys:
Beasley has emerged as rookie quarterback Dak Prescott's favorite receiver, despite having standout Dez Bryant at wide out. Beasley averages just under seven receptions a game, and if he can find one of those in the end zone he's up for a big day.
D/ST: Houston Texans:
The Texans got handled last week but I see them coming back strong against a poor Titans offense this week.
K: Adam Vinatieri, Indianapolis Colts:
Vinatieri is a Hall of Famer and it's pretty obvious when he stands behind a kick that the ball is going to sail through the uprights much more often than not when coming off Vinatieri's foot.