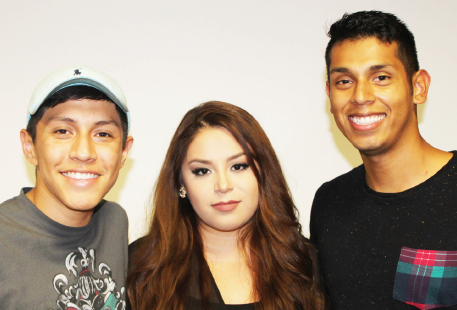 The Ferris State Office of Multicultural Student Services will host its 10th annual Latin@ American Heritage Celebration, taking place over the next couple weeks.
The event, kicked off Monday, Sept. 19, with the Trailblazers Exhibit and ends Wednesday, Nov. 2, with the celebration of the Día de los Muertos.
"The best part about this is the fact that they are actually promoting it and having the celebration. I like that they are taking the time to not only promote it, but to help you understand what it is about and the daily battles we have," said Ferris Spanish for the professions senior and member of the Hispanic Student Organization, Ben Davis.
"Knowledge is something that is very important for every generation to have. Every person should know things about other races and ethnicities. It helps strengthen the community in general," Davis said.
As stated by collegedata.com, about five percent of Ferris students are Hispanic or Latino. However, the road to higher education isn't always an easy one. According to the Pew Research Center, one in three Latinos/Hispanics don't graduate from high school.
"I think it is important to know how other people struggle," Criminal justice junior Anette Espinoza said. "Not every Hispanic goes through those things so it's better to have an understanding of where people are coming from, how they are struggling and how to make it better for them too."
Espinoza felt empowered by knowing that people like her were able to go to college and overcome their obstacles.
"My biggest struggle was not having the right models growing up," Espinoza said. "But knowing that other people were going to college and doing things for themselves…that inspired me. If they are doing it, why can't I?"
Ferris architecture sophomore and president of the Hispanic Student Organization, Daniel Rivera, encouraged understanding of his platform.
"We need to advocate for the culture and for issues that aren't advocated for enough, especially in the media. It's very important to get the word out there and give knowledge to students and to educate others," Rivera said.
Rivera distinctly remembered what it was like growing up as a Latino American.
"I remember going to a school that was predominantly white. I stood out in the crowd because of where I was from and what I was speaking. It was definitely a struggle. Coming to college was different with all the diversity," Rivera said.
Rivera also encouraged students to participate in the upcoming Latin@ American Heritage Celebration events.
"Come out and enjoy some culture. It is going to be a good time for exploration and a way to gain cultural knowledge."