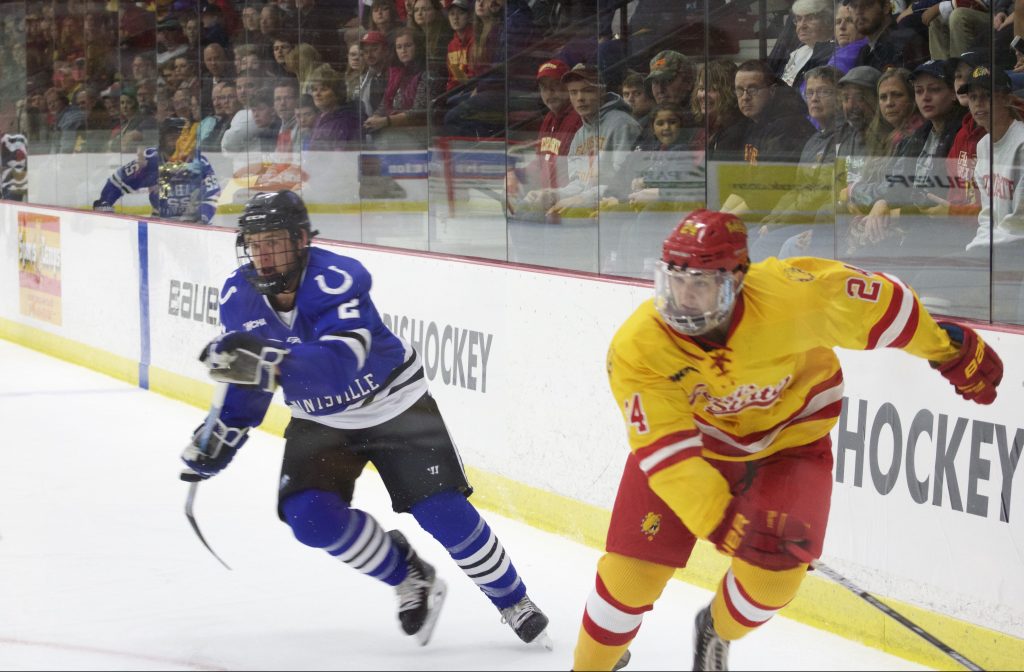 The Bulldogs were unable to rally after giving up three straight goals in the second and third periods leading to a 4-3 loss to Alabama Huntsville.
Ferris started off the game looking to get their first win of the season and initially looked on track to do so. Ferris played the Chargers even in the first period which saw both teams score one goal.
After 36 seconds of play in second period with the score tied 1-1, senior forward Gerald Mayhew gently flicked the puck to his left off a perfectly timed pass from sophomore center Craig Pefley to give Ferris the 2-1 lead.
The Bulldogs had the momentum until Alabama-Huntsville's offense took over. The Chargers scored two in the second at the 11:04 and 17:21 marks by forwards Brent Fletcher and Max HcHugh to go ahead 3-2. Junior forward Brennan Saulnier tacked on the finale goal for Alabama-Huntsville at 6:33 in the third to double up Ferris.
The Bulldogs pushed hard in the third period to try to retake the lead and Mayhew scored once more to close the deficit to one at 17:23. That was the last goal of the game leaving Ferris to fall to 0-2 on the season.  
Sophomore Ferris goalie Darren Smith faced 27 shots on goal from Alabama-Huntsville and recorded 23 saves. Sophomore forward Craig Pefley and junior forward Mitch Maloney finished the game with two assists each.
During the postgame press conference, Ferris State head coach Bob Daniels reflected on the play of his team as the game wore on.
"It was kind of a tale of two different teams. I thought we played really well in the first period. I thought we were on our game, we played with energy and then as the game went on it slipped a bit," Daniels said.
The shorthanded goal for the Chargers in the second period forced a hard shift in momentum, according to Daniels.
"One of the things that was really painful was the shorthanded goal we gave up. We were up 2-1 at that point on the power play and then they scored the short hander. I thought there was a real lackadaisical on the part of our players out there on the power play," Daniels said. "That really sucked a lot of the wind out of the sails of the team. It was a big momentum changer right there."   
According to Daniels, there are going to be lineup changes moving forward to try to maximize the potential of the roster and find good chemistry among starters.
Ferris next plays Western Michigan in a two game series. The first game is at home on Thursday Oct. 7 and on the Dawgs will hit the road to Kalamazoo on Friday, Oct. 8.
To see a full photo gallery of the action, click here.