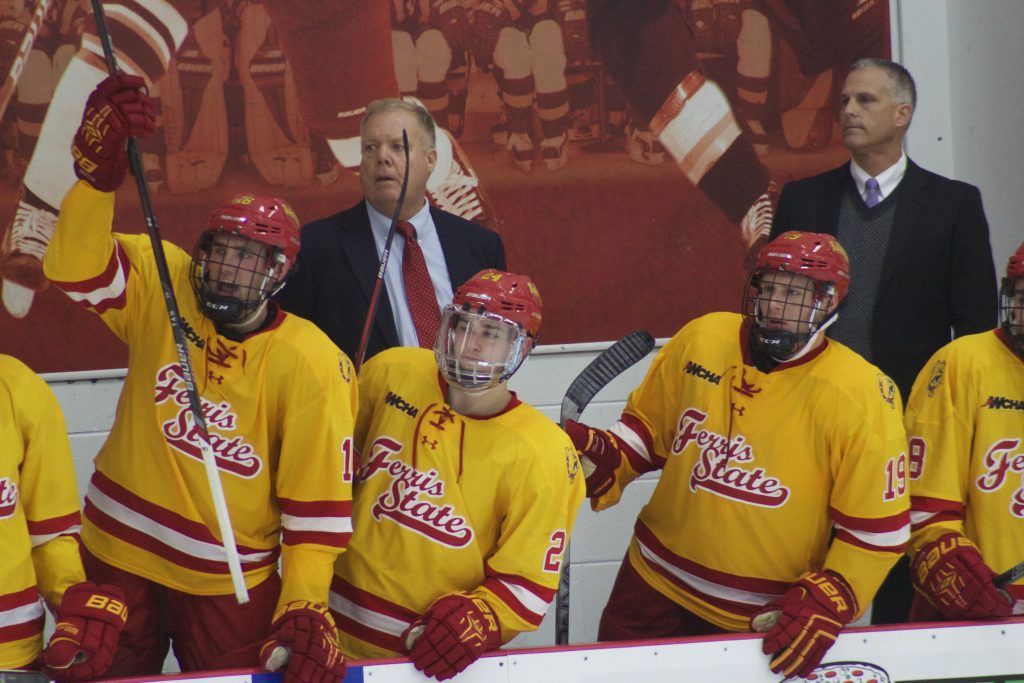 The first week of Bulldog hockey is in the books but there will be little downtime for the Dawgs as they have to get back at it earlier than normal.
With only three days between the Dawgs' first and second series of the season, Ferris will host Western Michigan Thursday, Oct. 6. Ferris State tied and then lost to Western last year early on in the season. But Bulldog head coach Bob Daniels is ready to take it to the Broncos after a quick turnaround.
"Western is going to have a good team this year, they return a lot of players, Andy Murray is an excellent coach," Daniels said. "In the past, we have had really, really good games with them."
"It seems like every time we have played Western over the years it has been a one goal game, I would expect these to be great contests," Daniels said. "The one thing I really enjoy about this series is that our arena is one of the best rinks to play in in terms of our fans and our student section and Lawson is one of the better rinks to play in in terms of their fans and student section, so there should be a lot of energy in both arenas."
Senior forward Gerald Mayhew was at the scoring forefront of last season, leading the league with 41 total points. Mayhew knows that the rest of the league is eyeing the Dawgs' title.
"We are going to have a target on our backs for sure," Mayhew said. "We were picked to finish fourth in our league and it is time to prove people wrong. Making it to the [NCAA] tourney was one of the greatest experiences ever and to go back would be a huge blessing."
Starting this week with Western, nine of Ferris' next 13 games are against teams from Michigan. Sophomore forward Corey Mackin made an impression on many of those teams as he nabbed Rookie of the Year honors in the WCHA after an impressive 2015-2016 season. Even with the tough schedule ahead, Mackin is excited to continue with the season and progress with some new Dawgs.
"We have a lot of new faces that we are excited to see out there and I think they will fit in very well," Mackin said. "I am really looking forward to just getting started and getting rolling with the year. Getting into a groove in the beginning is huge and I think our team is close enough to do that from the beginning."
The puck will drop Thursday, Oct. 6, at 7:07 p.m. at Ewigleben Ice Arena to open up the second week of play for Ferris State. The Bulldogs will then travel to take on the Western Michigan University Broncos on their ice Friday, Oct. 7, at 7 p.m.