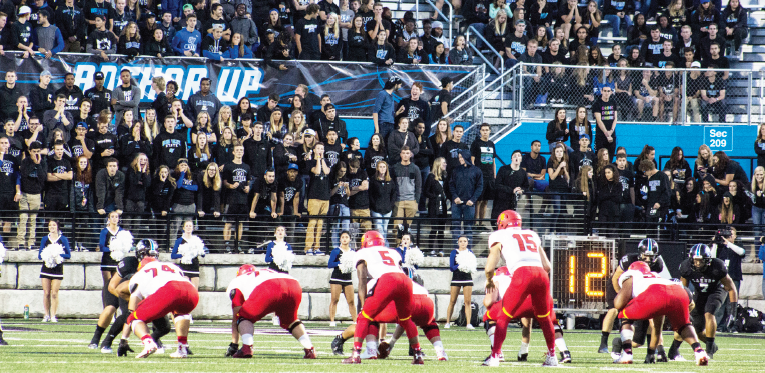 Heading into the 46th meeting this Saturday between rival schools Ferris State University and Grand Valley State University, Ferris students and a few student-athletes were asked what their perspective is on what makes the competition between the two schools so great.
Here is what they said:
Jake Daugherty
Redshirt Junior Offensive Lineman
---
Torch: What does Ferris – Grand Valley mean to you?
JD: I try not to hype it up more than it already is. It's another week, another good football team. For us, it's another road game we've got to win. It's a big rivalry. The game is going to be intense and hard hitting.
Torch: Is that something you have to communicate with the younger players? Not to try to make one game more important than the next?
JD: Yeah. It's natural how the Grand Valley games are going to be the games you're more excited for. It's your rival. You just have to treat it like another week. Preparation is no different. Film study is no different. At the end of the day, it's not like the Super Bowl. Just another game, another week we got to win.
Torch: Is there any slight sense of satisfaction that would come with a win since Grand Valley knocked Ferris out of the playoffs last year?
JD: Truthfully, I don't really dwell on the past a whole lot. For me, I'm not looking for revenge or anything like that.
Torch: So you'd call this strictly business?
JD: You could say that.
Torch: Is there anything else you want students to know about this game?
JD: Come out and support us. It's a big game for us. They're 5-0, we're 4-1. Ashland just lost to Tiffin so the only team that's leading the GLIAC with no losses is GV. So it's another road game and a big game in the standings.
Adam Petrowitz
Welding Engineering Sophomore
---
Torch: What are your thoughts on the Ferris – Grand Valley rivalry?
JV: I do not like Grand Valley. It's a thing I've acquired attending Ferris for a year. Especially after last year with the loss we had taken late in the season when we would have went on farther in the playoffs. This is a rivalry because we're so close to Grand Valley. That loss made the rivalry feel stronger. I know a lot of people that go to Grand Valley, so it's like, "Hey, my school's better." It just made me more and more proud to be a Bulldog with every win that we get. Especially with the back-to-back championships.
Shelby Ragatz
Criminal Justice Senior
---
Torch: What are your thoughts on the Ferris – Grand Valley rivalry??
SR: It's more fun because of the rivalry. The atmosphere is really cool. Their quarterback I went to highschool with, I graduated with him. I know some people that play for Grand Valley so I want to go to support them but at the same time I still want us to win. If their QB has a good play, I almost want to cheer for him but I know I shouldn't because I am a Ferris [student].
Dustin Lagrow
Pre-Med Sophomore
---
Torch: What are your thoughts on the Ferris – Grand Valley rivalry?
DL: I usually go down there. I'm in the cornhole tournament so that's intense. For the football game, we don't really like each other but when we go down there, we can connect. We make friends and enemies. Frenemies you could say. My friends who are already there also become frenemies at that point because we don't sit by each other. Afterwards we just go out and have a good time. Whoever wins get the rights to brag forever (until the next game).
Ryan Lowney
Finance Senior
Ferris State Hockey Defenseman
---
Torch: What are your thoughts on the Ferris – Grand Valley rivalry?
RL: I think that the school rivalry comes from location. They seem to be very competitive with our school each year. It seems like everytime in the playoffs, it's one of us make it or advance so that adds to it.
Tyler Andrew
Human Resources Junior
Ferris State Hockey Forward
---
Torch: What are your thoughts on the Ferris – Grand Valley rivalry?
TA: I just think location-wise, it's pretty close and whenever you get schools like Michigan-Michigan State that are right by each other, you tend to hate them. Those wins, you enjoy them more.
Joel Vandermolen
Automotive Engineering Junior
---
Torch: What are your thoughts on the Ferris – Grand Valley rivalry?
JV: It's a good rivalry, one of my favorite games to go to here. Lot of fun happens there. Our schools do things together. We have competitions, tournaments with cornhole. It's just a fun game to go to.
The Bulldogs will head to Grand Valley where they will take on the Lakers on the road Saturday, Oct. 8, at 7 p.m.