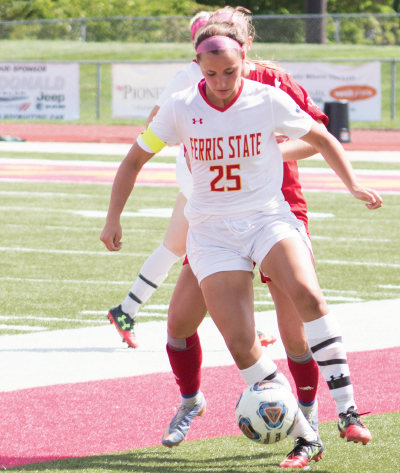 Ferris women's soccer is looking up after the team didn't allow one goal this past weekend at home.
The Bulldogs tied the GLIAC No. 3 Ashland Eagles 0-0 in double overtime on Friday, and beat the Tiffin Dragons 1-0 with an 81st minute goal.
Ferris is 3-5-2 overall this year and 1-1-2 in the conference. The record might be misleading to how this team has played. Every loss has come at the hands of a regionally or nationally ranked team.
The Dawgs have already played three teams in the top-five of the GLIAC in Ashland, Ohio Dominican and Michigan Tech which have only lost to national No. 1 Grand Valley. Ferris lost to Michigan Tech and tied Ashland but took down GLIAC No. 2 Ohio Dominican 1-0 early in the season in double overtime.
This team has been tested and come out on the losing end a few times. Though against tough competition, Head coach Andy McCaslin says his team needs to improve in consistently finishing.
"We have to be able to put the ball in the net. We create chances but we squander those chances. We need to finish," McCaslin said.
The Dawgs' shooting percentage is only at 5.1 percent. McCaslin says that needs to change.
Defensively, the Bulldogs have forced four shutouts this season. They have one more shutout at this point in the year than they did in last year's historic season when they forced a school record eight shutouts. Last year they had senior Maddie Haustein between the pipes, but freshman goalie Grace Kraft has stepped up for them this year.
Kraft gave credit to her defense in regards to the shutouts.
"I rely on them with everything. It helps to know I can trust them and they've got my back," Kraft said.
The Bulldogs will be in action next at Lake Erie. The matchup is set for Friday, Oct. 7, at 1 p.m. in Painesville, Ohio.