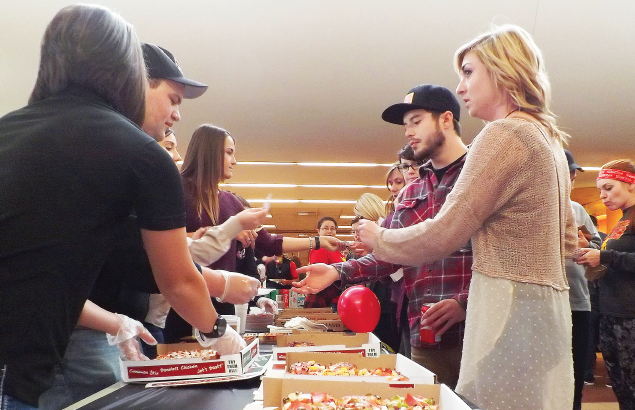 First–time participant, The Gate, was voted best pizza in Big Rapids at Za Best of Za Best on Thursday, Sept. 29.
The Public Relations Student Society of America (PRSSA) chapter at Ferris State University hosted Za Best of Za Best in the IRC connector for the third straight year.
Students and staff had the opportunity to taste pizza from five different Big Rapids vendors including: The Gate, Lucky Louie's in the EZ Mart, Pizza Hut, The Rock Café and two-time defending champion, Jet's Pizza. Cranker's Brewery was an original participant, yet failed to show up to the competition.
Ferris public relations student and vice president of social affair for PRSSA Lina Lintemuth is credited as the main organizer for the event and began preparation this past May. Lintemuth said she could have not been more thrilled in the outcome for the event.
"I'm really happy with the turnout, we had a lot of people," Lintemuth said. "This is the third time we are doing it, so people are familiar with it."
Entry to Za Best of Za Best was $5. This included one slice of pizza from each vendor and one cold beverage. A portion of the proceeds were donated to Angels of Action, a non-profit organization in Big Rapids that assists children and teens by providing them with food and other necessary supplies.
The atmosphere at Za Best of Za Best was lively and energetic. Students and staff mingled freely and participants seemed to be enjoying themselves. PRSSA also held a raffle for gift certificates and Ferris apparel, an information table for Angels of Action and Ferris DJs CHoFF and Austin Felt contributed excellent tunes for the event.
Ferris HVACR first year Troy White thoroughly enjoyed his visit to this pizza tasting competition.
"I really did not know what to expect before I got here, but once I got here I really had a lot of fun with it," White said.
The Gate coming out on top surely was a bit of an underdog story. Much of the traffic for the evening seemed to be hovering near the Lucky Louie's station. Lucky Louie's came prepared with menus to take home and a pizza warming apparatus.
Ferris Public Relations junior Kelsey George, who volunteered much of her time serving Lucky Louie's slices said, "Lucky Louie's is clearly za best of za best. The chicken bacon ranch slice is very popular and I am hearing all good things so far."
Two-time defending champion Jet's Pizza suffered in the voting by quickly running out of pies and struggled to have a supply of fresh pies delivered accordingly.
After two hours of tasting, Lintemuth announced that The Gate had the most votes and took home the prize of best pizza in town. The loaded taco slice was a major hit.