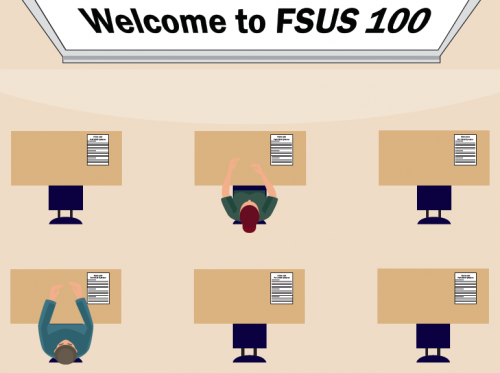 The results are in and data shows that the number of students enrolled at Ferris, as well as other Michigan colleges and universities, has gone down and won't be increasing anytime soon.
"Michigan (as well as the Midwestern Region) has been experiencing an overall decline in the number of high school graduates for the past several years. Our enrollment remained consistent until this fall, despite these demographic realities," said Ferris Dean of Enrollment Services Kristen Salomonson. "As a result, there is an impact on the number of potential freshmen as well as transfer students."
According to the President's Memorandum Fall Enrollment Forum, the number of Michigan high school graduates is continuing to decrease despite the projection of an increase in the number of national 18-year-olds.
"Best estimates are that from 2017-2022 there will be an additional 6.4 percent decrease," Salomonson said.
Ferris administration isn't taking this decrease lightly as they initiated the Strategic Enrollment Plan in 2014, according to Salomonson.
"Our overall goals are to improve access and opportunity for potential new students, enroll, retain and graduate a larger and more diverse student body, maintain the academic quality of our student population, and determine optimal enrollment based on environmental and institutional factors," Salomonson said.
However, some students think that other factors may impact the decrease in the number of students enrolled.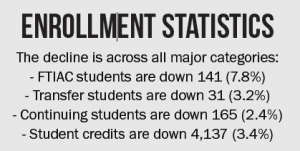 "There's probably lots of reasons, but I feel like a lot of people are going towards private schools because of scholarship reasons and financial aid," said Ferris marketing freshman Evan Koutny. "It's usually bigger in private institutions."
Ferris plastic engineering technology freshman Hanna Price suspects that waiting lists might also be discouraging for student enrollment.
"I feel like maybe people are starting to explore other options," Price said. "I feel like it might, in Michigan, keep decreasing because there are waits in a lot of programs."
Pressure on young high school graduates might also contribute to the decrease in student enrollment.
"I think there are a lot of people who don't really know what they want to do and then they just don't enroll at all," said Ferris music industry management transfer sophomore Kenzi Szymanski. "I went through a time where I had no idea what I wanted to do and I didn't even want to go to school."
Students can expect a 3.8 percent decrease in enrollment by spring semester, according to the President's Memorandum Fall Enrollment Forum.
"We anticipate very little impact for current students. The University will continue to provide quality services and facilities to promote student success," Salomonson said.