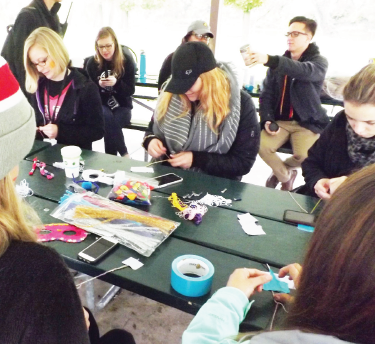 Ferris students and local residents braved the fall misty rain to participate in Music Industry Management Association's (MIMA) second annual Music on the Muskegon festival in Hemlock Park.
People were invited to enjoy the event's activities on Saturday, Oct. 1, by sitting back and listening to the bands perform or participating in a drum circle. Activities for kids included building shakers from recycled materials, making masks and bracelets and getting their faces painted.
Adults over 21 could enjoy the beer area hosted by Jaycees of Big Rapids while enjoying the bands playing on the far end of the gigantic tented area to shield performers and guests from the weather.
"We worked really hard to make it fun," said Ferris music industry management sophomore Sarah Millen. "We've had some really amazing bands that have come back from previous shows MIMA has put on, and returning bands from last year's Music on the Muskegon."
Millen added that the drum circle was fun because it was unstructured and people could do their own thing. She said the most enjoyable part of the day was working with the kids making the shakers because of their creativity and the joy they got from making them.
The headliner for the event was The Accidentals from Traverse City. Other bands included; An Dro from Grand Rapids, The Appleseed Collective from Ann Arbor and Pan Franek and the Polka Towners from Muskegon.
"I wanted to bring polka because Michigan has the second largest Polish community in the United States," said Ferris music industry management senior Jessica Schneider. "Also, we wanted to keep it local to support local artists."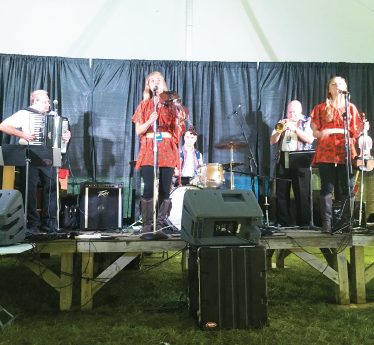 Ferris music industry management junior Brenden Long said he liked having The Appleseed Collective and An Dro because of their enthusiasm and they wanted them back this year. Long also said that one of the band members of An Dro, Carolyn Koebel, volunteered to lead the drum circle after their set.
"I loved The Accidentals when I saw them at their independent show and they have such a huge following, that was also a major reason why we chose them," Long said.
The beer tent and the drum circle were also some of the draw for Ferris students and Big Rapids residents to come down to Hemlock Park, according to Long.
The next MIMA event will be the annual spring event Turn Up the Good.
For more information about MIMA go to ferris.edu/business/program/music-industry/mima/.