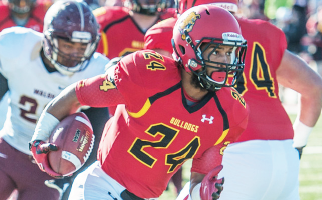 The unsung hero of the win that got Ferris State football back on track and the Top Dawg for this week is none other than junior running back Jahaan Brown.
Brown led the Bulldogs rushing effort in their Saturday night victory over Findlay with 107 total yards on the ground off 19 carries.
Though he did not find the end zone in the team's 16th consecutive road win, he certainly brought his team into the red zone before every score. The second leading rusher on the team last year, Brown is no stranger to lining up behind a quarterback who can take off on the ground himself.
Brown's longest rush of the night came on a 37-yard jaunt down the field late in the fourth quarter into Findlay's territory. Before the 37-yard dash, Brown's longest rush attempt was only 13 yards with many of his carries sticking right around 4 or 5 yards, showing just how important it is to have him.
Playing behind two great quarterbacks may not have always been ideal for Brown to find the end zone and break into a TD celebration, but a true team player like Brown has been someone the Bulldogs can rely on to put their team into great position to pick up first downs and win football games.
The Bulldogs will need Brown's steady rushing attack this weekend when they head to Grand Valley State University to fight for the Anchor-Bone Trophy Saturday, Oct. 8 at 7 p.m.