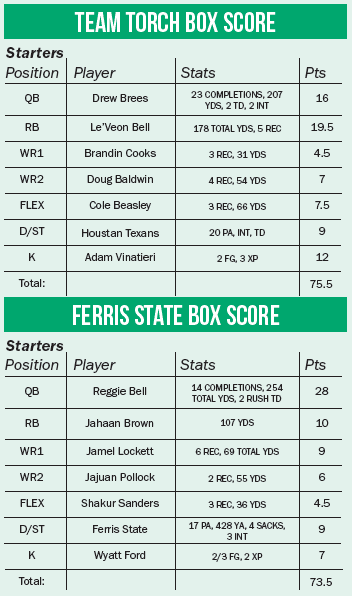 The Bulldogs beat Findlay on the road by three points last Saturday, but lost by two points to me in this installation of Ferris Fantasy Football.
Reggie Bell had a balanced day and scored Ferris State's only two touchdowns to put up 28 fantasy points. Jahaan Brown ran for over 100 yards but couldn't find the end zone and ended up with 10 points.
The difference was slim and it can be contributed to the kicking game. Vinatieri hit both field goals for me, a 53 and 49-yard field goal for nine points and tacked on three more extra points in the fourth quarter. Ferris kicker Wyatt Ford hit two of three field goals, but his second-quarter miss from 26 yards subtracted one point from his total rather than adding three.
Obviously, there are other plays that made the score the way it ended up, but regardless, Team Torch is now 3-1 against the Bulldogs this year. Anyway, here is my team for week five of NFL action.
QB: Derek Carr, Oakland Raiders:
Carr and the Raiders love to throw the ball and rightfully so. The Oakland quarterback has thrown nine touchdowns and just one interception so far this year. Carr will be playing against a weak Chargers secondary next week, so I like his chances of putting up big numbers.
RB: Melvin Gordon, San Diego Chargers:
Gordon has been very productive in his sophomore season, and with the San Diego passing game struggling, they'll look for him to pick up the slack in week five against a sieve-like Oakland rush defense.
WR1: Amari Cooper, Oakland Raiders:
I've already picked him once this year and I'll do it again. Cooper didn't catch any touchdowns last week, but his teammate Michael Crabtree caught three. I think the Chargers defense might shift their attention away from the No. 1 receiver in Cooper and he could find himself with a couple touchdowns of his own in week five.
WR2: Sterling Shepherd, New York Giants:
Shepherd is an obvious No. 2 on the Giants behind Odell Beckham Jr., which is why I think he'll have a great night on Sunday against the Packers. The Packers defense will likely key in on OBJ, and Shepherd will fly under the radar. Bold prediction: Shepherd will catch at least eight passes against the Packers.
FLEX: Jordan Howard, Chicago Bears:
This is my sleeper for the week. Howard has replaced injured running back Jeremy Langford and has done quite well. The rookie out of Indiana University might even take Langford's job when he gets healthy. Something tells me Howard is going to be a great player in the NFL.
D/ST: Minnesota Vikings:
The Vikings defense is good and Houston's offense is not. I'm sold.
K: Justin Tucker, Baltimore Ravens:
Tucker has made seven field goals from 40 yards or more and hasn't missed one all season. I'll take that and run with it.
We'll see how my team holds up against the Bulldogs as they take a short road trip to Grand Valley State in the battle for the Anchor-Bone Trophy Saturday, October 8, at 7 p.m.