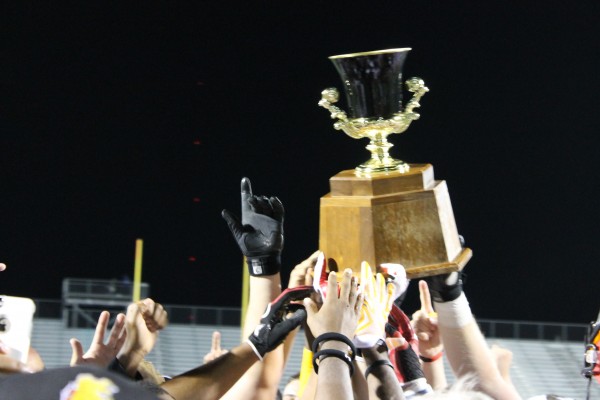 With the latest installment of the Anchor Bone Classic coming up Saturday, Oct. 8, Grand Valley State Lanthorn sports editor Beau Troutman contacted me to discuss our opinions on Saturday's rivalry.
BT: GVSU seems primed for another run at the national semifinal. At 5-0, the Lakers have established themselves not only as a conference favorite, but a national contender with a No. 2 overall ranking in the Division II AFCA Coaches' poll. The Bulldogs (4-1) are close behind at second in the GLIAC North.
Marshall, what can we expect from a Jason Vander Laan-less Ferris State team this weekend?
MS: Even though the team will be without Vander Laan, Ferris State quarterback Reggie Bell has been a good replacement for the two-time Harlon Hill winner. Bell, who transferred to Ferris from Division I Eastern Michigan, like Vander Laan, is a dual-threat quarterback. He also carries much of the load for the Ferris offense as Vander Laan did, with more pass and rush attempts than any other FSU player this season. The difference is that Bell uses more of his speed and agility than physicality while running the ball. GVSU can expect to see a lot of run-pass options for Bell.
GVSU will definitely need to contain Bell, especially along the edge because of his quickness and big play ability. What can we expect in terms of slowing down Bell, putting into consideration the loss of defensive end and Gene Upshaw award winner Matt Judon to the Baltimore Ravens?
BT: Going up against a former Division I player is no easy task, but I think the Lakers have what it takes to at least contain Bell. So far, it's been no Judon, no problem. The addition of graduate transfer Sydney Omameh from Ohio Dominican has added tremendous depth to a pass rushing group that leads the GLIAC with 20 sacks. Omameh leads all defenders with 5.5 sacks this season. GVSU coach Matt Mitchell stated earlier this week the Bulldogs do a great job of creating one-on-one match-ups, and I think we have a defense that can win those types of battles, especially on the outside, including starting cornerback Devin McKissic, the most recent GLIAC Defensive Player of the Week.
GVSU's offense operates at a 42 points-per game clip, good for first in the conference. With a backfield that boasts quarterback Bart Williams (1202 yards, 11 touchdowns) and running back Martayveus Carter (684 yards, eight touchdowns), what can we expect from the Bulldogs' defense?
MS: There are a couple of factors that will come in to stopping GVSU's offense. With a high-powered offense like GVSU's, I think the Bulldogs will have to have a bend, don't break mentality. GVSU averages 522 yards per game, so they are going to move the ball. The key will be making stops when GVSU is on our side of the field, and forcing some three-and-outs early in the game to keep GVSU from getting rolling early.
I also think a big part of stopping GVSU's offense will be forcing turnovers, and minimizing them on the offensive side of the ball. Ferris leads the GLIAC with nine interceptions so far on the season, but we have also turned it over 10 times in the first five games, some of which have been costly. For example, in our loss against Ashland we fumbled inside Ashland's 10-yard line, and also fumbled in the fourth quarter which Ashland was able to scoop and score. This could be a game that comes down to the last drive, so keeping possession as often as possible is crucial.
I have sensed that FSU students have a growing bitterness toward GVSU sports as the rivalry has became bigger over the past few years, have you noticed a similar trend in Allendale?
BT: Most definitely. The big rivalry in these parts is versus Saginaw Valley State for Battle of the Valleys. In recent years, though, the real rivalry has been with the Bulldogs.
GVSU is 10-2 against SVSU since 2004. Against the Bulldogs, GVSU won 11 straight contests from 2000 to 2011, but VanderLaan and company won four straight from 2012-15—save for the team's last meeting, a 38-34 GVSU win in last year's postseason. Sorry to bring that one up.
With that kind of drama, though, the best Division II football rivalry in Michigan has been the Anchor-Bone Classic. Battle of the Valleys unquestionably comes first in Laker lore, but GVSU's biggest game this season is against your Bulldogs this weekend.
The time has come: What team do you have winning this Saturday night for one of the biggest games in the GLIAC North?
MS: Do you want my unbiased opinion, or what I actually think is going to happen?
Honestly it doesn't matter, because either way I think the Bulldogs will walk out of Lubbers Stadium with a victory against a very good Grand Valley team. FSU 38, GVSU 35.
BT: OK. Respect. But I have to disagree.
This game is going to come down to the quarterback play. Both teams feature a dynamic quarterback capable of taking over the game. Bart Williams' ability to connect deep with receivers Urston Smith, Matt Williams and Brandon Bean gives us a lethal passing attack that opens up running lanes for Carter. Bell is a pure dual-threat quarterback who will undoubtedly cause our defense to bend considerably.
In the end, I think Bart Williams and an opportunistic Laker defense will finally get a win over the Bulldogs in Lubbers Stadium, forcing Bell to commit just enough mistakes to give us the edge. GVSU 42, FSU 35.
---
The Torch would like to thank Troutman and the rest of the staff at the GVSU Lanthorn for making this column possible.