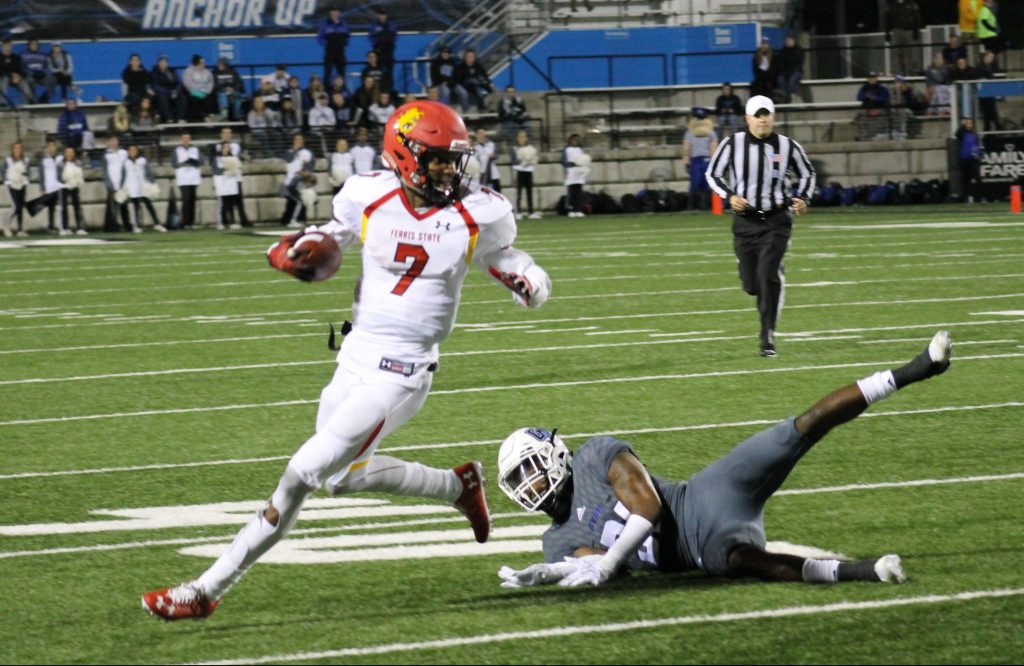 ALLENDALE — A second half surge from Ferris was not enough to top the No. 2 Grand Valley Lakers as the Bulldogs lost 35-28.
Ferris started the game moving the ball, but could not buy a third down conversion. The Bulldogs were 0-7 on third downs in the first half. An interception and a fumble leading to a score for the Lakers all contributed to a rough first half for the Bulldogs who went to the locker room down 28-6.
Ferris took over in the third quarter outscoring the Lakers 17-0. Sophomore Malik Taylor got the Dawgs started with a 26-yard reception to the Laker 23 yard line. Taylor would go on to finish the day with 147 receiving yards. Junior quarterback Reggie Bell found him in the endzone on the next possession to bring the score to 28-13.
The momentum seemed to be shifting in Ferris' favor as the Laker lead shrunk and GVSU fans started to filter out of the stadium anticipating a blowout.
Ferris junior Corner Tavierre Thomas recorded his third interception of the game at the Bulldog 38 yard line, which led to a scoring drive capped off by Bell throwing to junior receiver Marquell Hines for 21 yards.
The Bulldogs forced a three and out on the next Laker possession. Bell got tackled out of bounds and exited the game momentarily due to injury after Ferris received the ball. The Dawgs managed to convert a field goal making the score 23-28.
The Lakers would get their first second half points on the next drive. GVSU sophomore quarterback Bart Williams threw a 36-yard arching throw that landed in his receiver's hands in stride in the end zone. The Bulldogs would reach the the redzone, but would not recover with the score 35-23.
Ferris finished the day with 570 yards compared to 350 Laker yards. Bell led the Bulldogs in rushing with 140 yards. He also passed for 343 yards and two touchdowns with two interceptions.
Ferris junior linebacker Nick Huckaby led the defense with nine tackles.
The Bulldogs will be looking for redemption at home next Saturday against Northern Michigan. Kickoff is set for Saturday, Oct. 15, at 1 p.m.
To see more photos from this game, click here.