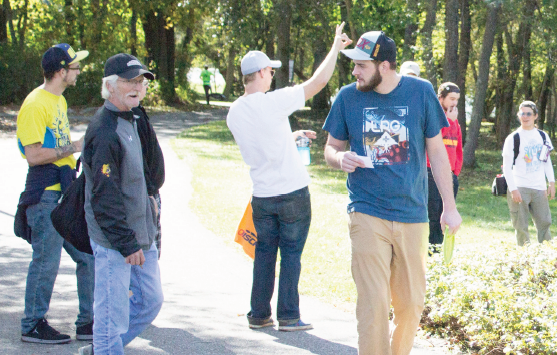 Near-perfect October weather welcomed Ferris students and local residents alike to an afternoon of disc golfing for an important cause this weekend.
Big Rapids' 11th annual Discraft Ace Race took place this past Sunday, Oct. 9, at Northend Riverside Park, with this year's proceeds reserved for local cancer victims.
About 60 players turned out for two rounds of the 18- hole course and coffee provided by Ferris United Against Cancer. Each participant paid a $30 registration fee, which included a T-shirt for early registration, and a grand prize awarded to the winner of the event. Ferris United Against Cancer will disburse all of the proceeds locally.
"The money goes directly to whoever we hear of that's in need," said Karen Ottobre, secretary of the Management Department and one of a handful of volunteers who make up the Ferris United Against Cancer team.
After becoming frustrated with previous cancer fundraising being directed toward Grand Rapids instead of the Big Rapids community, Ottobre and a small group of volunteers decided it was time to start fundraising on their own.
Working without preconditions, the team now focuses on fundraising for local cancer victims only. In fact, some of the proceeds from this weekend's event will go directly to the son of a current Ferris student.
Michelle Thebo describes her son Trevor's brain disease simply as "a bad roll." The 21-year-old learned of his brain tumor in March of this year after experiencing severe headaches for a long time.
With Trevor's case still touch-and-go, Thebo and her husband—a disabled veteran—have to manage a full plate that includes her full time student schedule.
"We work out doctor visits and trips to the hospital between us," Thebo said.
Thebo, a Ferris surveying engineering senior, who also works part-time on campus, expressed gratitude towards the Ferris faculty that's been very understanding.
"My professors have been very supportive and helpful," Thebo said.
Specifically, Thebo applauded Professors Carl F. Shangraw and Gabor Barsai of the engineering department.
"We have been truly blessed by the Ferris United Against Cancer group. Trevor has had some scary, dark days, and knowing that there are people out there who care and help to ease our burden genuinely make a difference, not just financially but emotionally. It truly raised our spirits," Thebo said.
Ferris United Against Cancer's second fundraising event of the year will be a live auction at Currie's Auction House Sunday, Oct. 23.