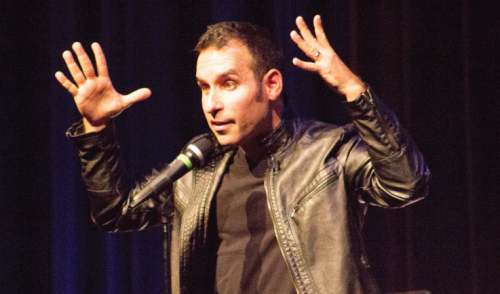 Daniel Martin visited Ferris on Tuesday, Oct. 4, with his magic act, "Daniel Martin: Insane magic, exhilarating escapes, sarcastic improv."
"My favorite part was going up and finding out that somehow I actually disappeared," said Ferris biology freshman Tristan Scribner. "I've had multiple people come up to me and show me pictures of me gone. I didn't really believe in magic before but I kind of do now."
The performance began with a video called "Mile High Magic" portraying Martin doing tricks while he traveled.
"I saw some posters in our hall and decided it would be fun," said Ferris plastics freshman Miles Clifford. "It was a really exciting experience and my mind was blown."
"I honestly just like the shows that they put on here," said Ferris radiography freshman Kaela Sluss. "I just wanted to come and see what it was all about."
Martin described his act in one word during the opening monologue of his show.
"I don't dance, I don't sing. I do one thing and I do it quite well: I magish!" Martin said.
Martin interacted with the audience members, responded sarcastically to their comments, commented on the recent clown issues in the area and invited them be part of the show.
"Watching the audience is my favorite part," Martin said. "The reactions are amazing. People feel different things during the show: some people laugh, some people cry, some people believe they truly can do anything. It's amazing to be able to give these experiences in the hour that they're with me."
Martin began working as a pick-pocket when he was six years old in Chicago. His grandparents bought him his first magic kit to try to redirect his sleight of hand talents. He began performing magic professionally when he was 12 and paid his way through school with these shows.
"I'm a firm believer that if you love what you do, that's what you should do in your life, that's your purpose," Martin said. "Don't worry about money. Money will come. Doing what you love, you'll be the happiest you've ever been in your life."
Martin performs 200 shows all over the world each year, spending about nine months of every year traveling. He has previously appeared on many television networks and is scheduled to be on the Tonight Show with Jimmy Fallon in a few weeks (the exact air date has not yet been released).
While Martin admitted that the travel is one of the hardest parts of the job, he also claims it is one of the best.
"Even though you get to see different parts of the world, you don't get to see them for that long because you have to be in a different place," Martin said. "I'm in a different city or state every single night. Sometimes it's one, two, three flights a day, so you don't get a lot of sleep.
"I love Ferris State, it was amazing tonight. The energy was insane and through the roof. It was one of my favorite audiences, I can't wait to come back."
Martin has received awards for best live performer, best male performer, best variety performer and entertainer of the year, and has been the highest rated and best reviewed touring act in the country for the third year from Campus Activities Magazine.
Martin can be followed on social media as he travels and performs. More information can be found on danielmartin.com.
Entertainment Unlimited's next event will be the quiz game show, Nerdology, by the University Center fireplace on Friday, Oct.14, at 8 p.m.