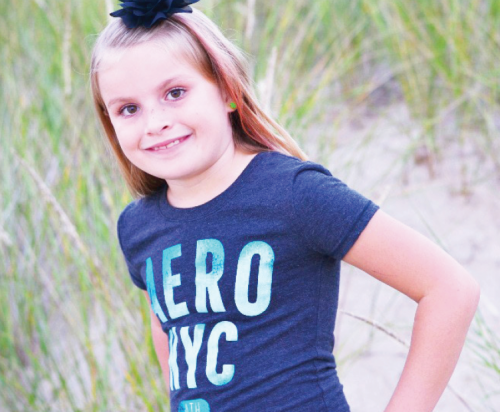 Sometimes it's important to take a step back and realize that next week's test or tomorrow's presentation aren't the biggest problems.
Morgan Franklin is a 10-year-old girl from Muskegon who is diagnosed with a severe case of an autoimmune disease called Linear Scleroderma. The disease, a type of morphea, creates lesions on the skin that eventually begin to affect the bones and organs, hardening them. Eventually it will become difficult—and even worse, impossible—for Morgan to move her limbs. Approximately one in every five million people are diagnosed with this rare disease.
Morgan has already begun to lose some of the movement in her right hand. Through the pain, Morgan has a strong love for soccer, so much so that she was given the opportunity to become a part of the Ferris State soccer program. Senior defender Kate Kelly explored the opportunities that Morgan has to be a Bulldog.
"Morgan gets to sign a National Letter of Intent to be an official member of the team," Kelly said. "She gets to keep working with us until she's 18, I think."
Kelly has taken pride in being a Bulldog for the past three years, and opportunities to help children like Morgan make the Bulldog experience even greater.
"In Morgan's case, she can still play soccer, but after her games her legs and ankles hurt her pretty badly," Kelly said. "Morgan has the dream to play college soccer some day and it is awesome to give her something to dream about."
During the Dawgs' Spring season, Morgan was able to visit Hope College to help Ferris prepare for their game. She sat on the bench with the team and hung out with the women during their pre-game warmup. Something like this may mean the world to Morgan, but she may not be the only one getting something out of the cool experience.
"It's a great program for athletes as well because it gives us something to play for that is bigger than ourselves and the game that we play," Kelly said. "It gives us a good reminder how blessed we are to be able to play at such a high level."
Morgan's family and doctors hope that the illness will begin to go into remission over time with the treatments that she is receiving, but the young soccer enthusiast will never be completely rid of the disease.
"To have Morgan be able to be a part of the soccer team is awesome," said Morgan's mother, Elizabeth Eller. "We don't know what the future holds for Morgan and this gives her a little taste of what it's like at higher levels. Morgan loves the girls on the team and enjoys texting or working out at the gym with them. It has been huge for her self‑confidence. We are glad she feels close enough to a couple of the girls to talk to them when she doesn't feel comfortable talking with us."
According to hospitality management senior Jodie Yuncker, another Bulldog who is helping Morgan, Morgan is currently unable to attend school, so the young soccer star enjoys painting rocks and coloring.
Kelly and Yuncker, along with other Ferris students from their event management class, are orchestrating an event to help Morgan's family pay for medical bills and other financial needs. The event will be at Applebee's in Big Rapids Saturday, Oct. 15, from 4 p.m. to 9 p.m. The Bulldog crew will be doing a raffle and selling "Morgan Strong" bracelets at the event.
The group will be handing out fliers at Friday's home soccer game. Presenting the flier to your Applebee's server on Saturday will ensure that 10 percent of your food's proceeds will go to Morgan and her family.
As Morgan continues to fight against Linear Scleroderma, dreaming of becoming the next Kate Kelly, she can rest easier knowing that the Bulldog Nation is behind her.