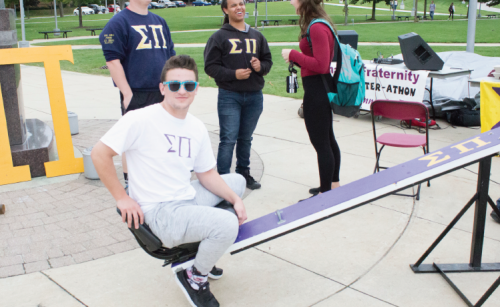 The men of the Ferris Sigma Pi International Fraternity broke out their teeter-totter in the North Quad this week with the intentions of raising money to help fight cancer.
The fraternity sets a goal of $1,000 each year, which they came close to this year by raising $835, according to Brandon Swanson.
"We do it every single year, we'll do it for 48 hours straight and it's to raise money to help fight cancer. It's for a foundation up in Reed City, Susan P. Wheatlake Regional Cancer Center," said Ferris information security and intelligence junior, and vice president of the fraternity Brandon Swanson. "Usually we have about 18 guys who participate in it and then we just switch off shifts and we always have two people on the teeter totter at all times."
Starting at noon on Tuesday, Oct. 4, the members of the fraternity took turns on the teeter-totter for an entire 48 hours, regardless of cold nights or rain showers.
"It's a great cause because it's local, it's going to be in Reed City," said Ferris accounting senior Chris Rozine, who was also in charge of the re-design of the teeter-totter. "A lot of people donate towards cancer and they don't know where it's going to go towards, but it's going to go towards Reed City, 10-15 miles north, so I think it's going to be great because we can see it affect people."
According to Swanson, the members of the fraternity must commit to at least five to six hours, although there are some members who commit as much as 16 out of the total 48 hours.
"We're out here raising money for a good cause and that's what I want to do and to make sure we get our name out into the community," said Ferris pre-nursing sophomore, Robert Ross. "Also to kill the stereotypes about fraternities [that] all we do is party. We also do good things for the community."
Students, faculty and community members who walked through the North Quad were encouraged to donate any amount of money, including pocket change when they walked by.
"I've been a big advocate for cancer research, I've been doing Relay for Life for the past 10 years and, I mean, cancer hits everybody at home in some way, so you know, I've had a couple family members who've had cancer pass away so doing stuff like this hits home for me," Swanson said. "It's a good way for us to meet new people, have good conversations and hang out as a brotherhood."
The Teeter-Totter-Athon is the fraternity's biggest fundraiser of the fall, according to Swanson.
"Being out in the Quad and being social, getting our name out there for faculty and just regular students, making sure everyone knows who we are and what we stand for, that's what's awesome about it," Rozine said.