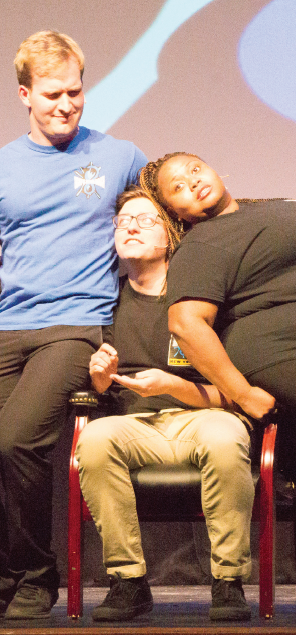 A traveling troupe of comedians from New York City performed at Williams Auditorium to a small audience of Ferris students and local area residents.
Eight Is Never Enough is a group of improvisational comedians who sing, act and make commentary on nearly any topic given to them. Some of the topics of the night included Donald Trump, hurricane Matthew, Bruno Mars and homework.
Nearly everyone in the audience Friday night had the opportunity to be on stage during the performance. Most of the skits and even some of the songs had an audience participation component to them.
Ferris digital animation and game design freshmen Nick Salamone and Angela Dato were two of the participants in different skits during the 90-minute performance.
"I was nervous at first, but after a few minutes I got used to it," Salamone said. "I wish I had said some other stuff, but it was fun."
Dato agreed with Salamone that she was nervous on stage and that improvisational comedy is much harder than it looks. She also was impressed with how well the comedians listened to those from the audience and to each other.
"Improv is a lot harder than I thought it was," Salamone said. "I really thought improv was something you just walk up and just go do it. When I went up there I was like, 'Whoa! This is a lot harder than I thought.' It's because you have to come up with stuff on the spot. It's impressive they can do that so fast."
The performance included skits like singing an Irish song about mothers-in-law, a Broadway show about a banana tree growing in New York City and commentary on the reenactment of paintings from the Declaration of Independence and the Revolutionary War.
"The show was funny. It was really good," said Salamone.