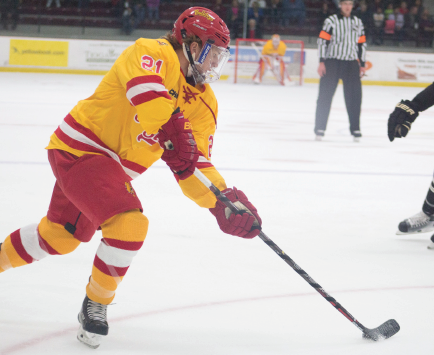 Ferris State hockey will look for their first win of the season against the Michigan Wolverines on Saturday, Oct. 15.
The Bulldogs have started the season 0-4 and have given up an average of 3.25 goals per game.
Head coach Bob Daniels said, "We've got to tighten it more defensively than anywhere else."
Last Saturday, the Ferris defense gave up 41 shots on goal against Western Michigan. Sophomore goalie Darren Smith had a great showing with 39 saves but the overwhelming shot volume was too much, as Smith allowed two goals.
Daniels attributed some of the defensive struggles to a young back line.
"A lot of our defensemen are very much freshman, and they're offensive minded," Daniels said. "That's going to bode well for the future, but in the interim we're going to make some mistakes."
The Dawgs have had a shaky start to the season and that will need to change against in-state power Michigan. Daniels believes that his team will improve.
"Once we get everyone back and we can get everyone slotted I can already see the makings of two really good lines," Daniels said. "A better defensive posture, a better defensive placement will lead to better offensive output."
The Wolverines are sure to be a challenge for the Bulldogs. Michigan has started the year 2-1 averaging three goals per game while only allowing one per game. Last year, Ferris was dominated 5-2 in Ann Arbor. The Bulldogs are home this time around with a sold out crowd to back them.
Daniels said, "The game against Michigan is always special. All our games are tough, but when it comes to Michigan or other in‑state teams it turns up a notch."
In their 2014 home opener, the Bulldogs defeated the Wolverines 4-3. Senior Chad McDonald said that was one of the most memorable games of his career.
"Sophomore year against Michigan it was beyond packed. The feeling you got when you went out on the ice and the electricity the crowd was bringing combined with how we were beefed up, it was unbelievable," McDonald said.
This year's matchup is one that Daniels believes will help improve his team and possibly get some problem areas straightened out.
"It'll be another step in the development of our team. It's a challenge I really welcome," Daniels said.
The game starts at 7:07 p.m. at Ewigleben Ice Arena Saturday, Oct. 15.