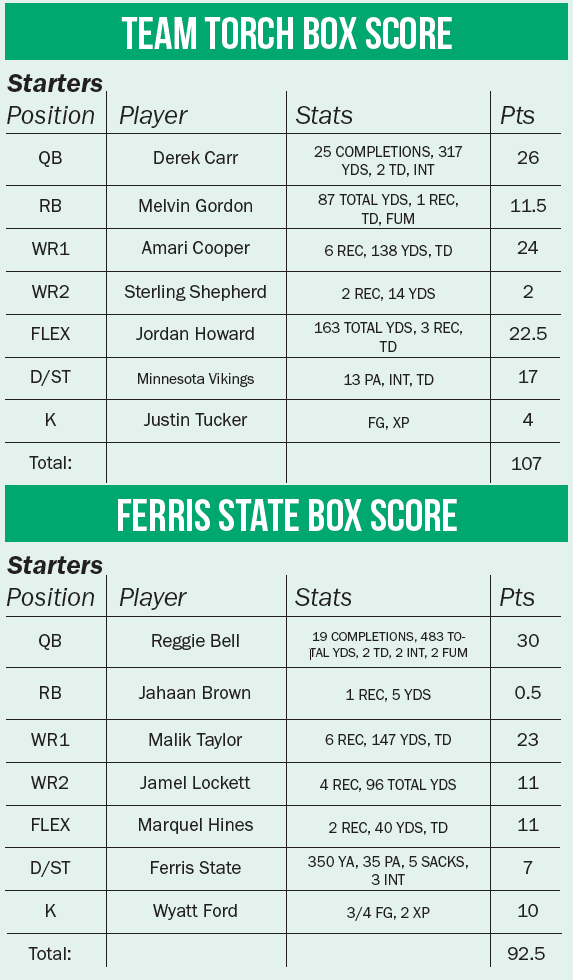 The Ferris State football team found themselves down 28-6 at halftime against Grand Valley State on Saturday.
The Bulldogs fought back in the second half, cutting the lead to 28-23 before eventually falling 35-23 for their second loss of the season.
The Bulldogs' big second half helped them put up big numbers on offense, 507 total yards to be exact. But their big day on offense wasn't enough to win in Ferris Fantasy Football either.
Since the Bulldogs were trailing for so long, they spent much of the game trying to play catch up, which means they were throwing the ball plenty. Although Ferris quarterback Reggie Bell put up 30 fantasy points this week, the lack of rushing attack left Jahaan Brown with just half a point after only rushing for nine yards on six carries, which doesn't even account for a point in ESPN scoring.
With this week's 107 to 92.5 victory, I have improved to 4-1 against the Bulldogs, while their record on the non-virtual gridiron has fallen to 4-2 on the season.
The Bulldogs will take on Northern Michigan Saturday, Oct. 15, at Top Taggart at 1 p.m.
While playing against Northern, they will simultaneously be matching up against the following team:
QB: Tom Brady, New England Patriots:
Brady proved last week that he was back with 400+ pass yards and I don't see him stopping anytime soon. Brady is playing angry, which is a scary thing for the Cincinnati Bengals' defense in week six.
RB: LeSean McCoy, Buffalo Bills:
McCoy is a matchup nightmare for any defense, especially a 31st ranked 49ers defense that he'll be facing in week six. Look for Shady to end up in the end zone at least once or twice on Sunday.
WR1: Jordy Nelson, Green Bay Packers:
Aaron Rodgers loves looking for Nelson, especially in the red zone. If the Cowboys can't get pressure on Rodgers, then look for him to have a big day. Typically when Rodgers has a big day, Nelson does too.
WR2: Jeremy Maclin, Kansas City Chiefs:
Maclin and the Chiefs are coming off a bye and have a favorable matchup against the worst defense in the league in the Oakland Raiders. As the Chiefs' No. 1 receiver, I expect Maclin to have a big day, especially since Oakland puts up a lot of points, so to keep up, the Chiefs will have to air it out often.
FLEX: Rob Gronkowski, New England Patriots:
Gronk is Brady's favorite target and after Patriots tight-end Martellus Bennett caught three touchdowns last week, I think Brady is going to spread the wealth in Gronkowski's direction. Don't be surprised if he catches three touchdowns himself.
D/ST: Buffalo Bills:
The Bills are more of a middle of the road defense but they're playing a 49ers offense that just isn't very good.
K: Caleb Sturgis, Philadelphia Eagles:
I watched Sturgis live at Ford Field last week and the guy put everything dead center through the uprights. He just seemed like he was zoned in. That's a good trait for a kicker.