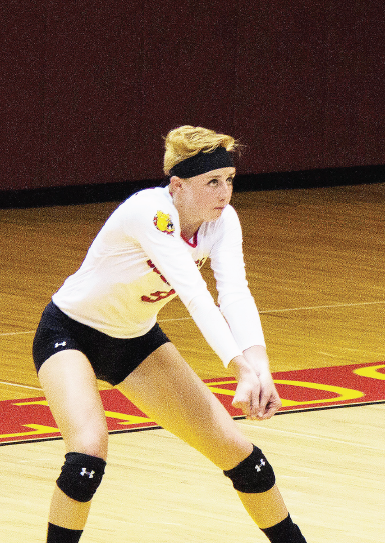 Top Dawg honors of the week go to sophomore outside hitter Katie Placek for her outstanding performances this weekend to help the Ferris women's volleyball team defeat both GLIAC foes at Ewigleben Arena to go 6-0 in their weekend sets.
Placek's outstanding weekend started on Friday, Oct. 7, when Ferris defeated Ashland University in three straight sets and then on Saturday, Oct. 8, Ferris won again in straight sets, this time over Tiffin University.
During that two-day span, Placek had the highest combined output of any of the women's volleyball players with a grand total of 18 kills, 23 digs and two solo blocks for a total output of 21 points.
Placek is currently ranked statistically in four categories in Div. 2 Women's Volleyball Top 300 in digs per set (4.03 D/S for 190th), total digs (238 digs for 137th), total attacks (520 A for 132nd), and attacks per set (8.81 A/S for 188th).
Ferris women's volleyball is currently in third place in GLIAC standings with a 7-1 record in conference play and a 13-5 record overall. The Lady Bulldogs have won nine games straight, including 11 of their last 13 games while remaining undefeated at home.
Ferris next plays in the Midwest Region Volleyball Crossover in Aurora, Illinois against Truman State on Friday, Oct. 14, at 3:30 p.m.