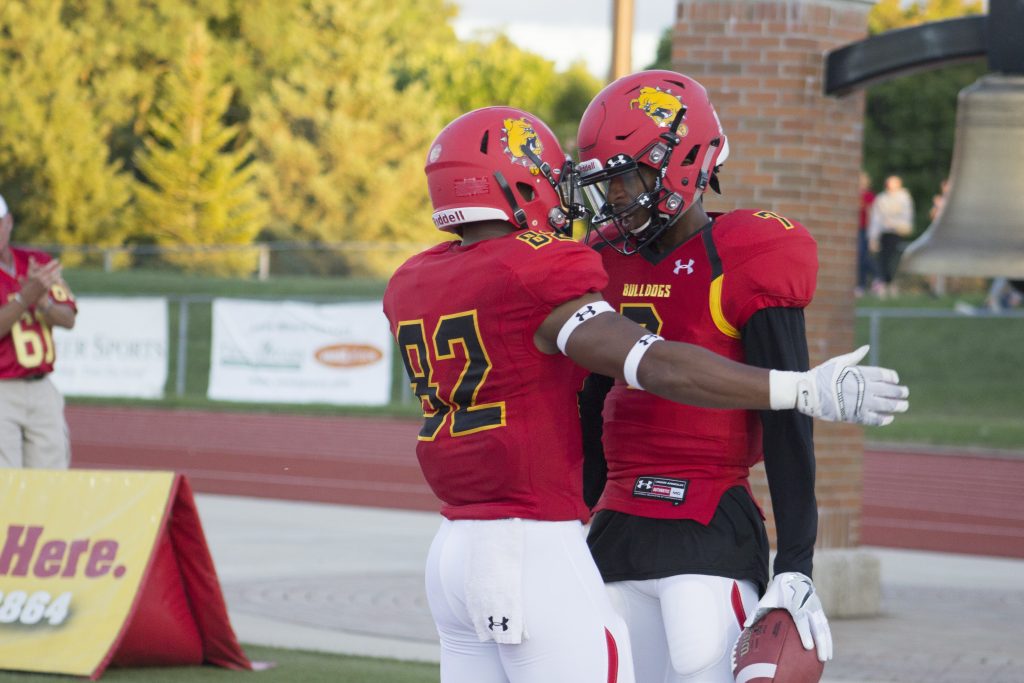 An efficient Ferris rushing attack was too much for the Northern Michigan Wildcats to contain as the Bulldogs piled up 436 yards on the ground on their way to a 45-23 victory.
The Bulldogs attempted just nine passes on the day totaling 46 yards.
"We're a team that tries to focus on what the defense gives us so that's what our initial focus was. We practiced hard on the pass game this week, but when you're able to stay ahead of the chains and do the things you need to do to function as an offense, then that's what you focus on," Annese said.
Junior quarterback Reggie Bell punched in two short rushing touchdowns and also broke a pair of long runs into the end zone from 68 and 49 yards out  in the second and third quarters, respectively.
Ferris sophomore running back Robert Thomas III and redshirt freshman running back Marvin Campbell also recorded one rushing touchdown each.
Bell finished the day with 154 yards and four touchdowns while averaging 14 yards per carry on the ground with junior running back Jahaan Brown totaling 103 yards with an 11.4 yards per carry average.
The 3-4 Wildcats had been averaging 31.2 points per game coming into the day, but had trouble stringing together a drive against Ferris until the fourth quarter when the game was well out of reach.
Northern Michigan did most of their damage on screens and short passes on their way to 152 yards through the air with an 11-yard completion marking the longest of the day for NMU. The Wildcats also accounted for 185 rushing yards on 44 attempts.
NMU nearly doubled Ferris' time of possession, as the Dawgs held the ball for just 21:10 while Northern was on offense for 38:50.
"It really shows off our endurance with how we can hold them [to few points] with all that time on offense. Yeah we should've gotten a couple more stops, but we really held them to what we needed to," Ferris sophomore defensive end Zach Sieler said.
Sieler finished the game with four tackles, a sack and 1.5 tackles for loss.
This game marked the first of a three-game homestand for the Bulldogs, who have played four of their last five contests on the road and gone 3-2 during that span. With the win, the Bulldogs improve to a 5-2 record on the season, and will likely need to win all of the remaining games on the schedule for a chance to reach the playoffs.
"We would have to be 9-2 to have a hope of getting into these playoffs but we don't focus on what we need to be then, we focus on what we need to be today," Annese said. "I always tell our guys that it's not life or death, but they should play like it. I coach like it's life or death, almost to the degree that it ruins my happiness if it's not a win. It's just the way I am and the way I'm built."
The Bulldogs will continue their three-game homestand at 1 p.m. next Saturday, Oct. 22, when they take on GLIAC foe Lake Erie at Top Taggart Field.