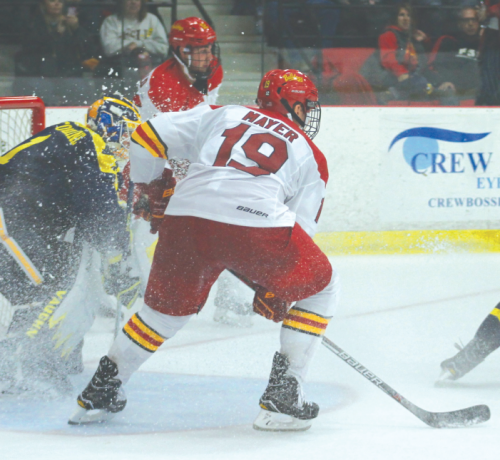 An 0-5 start may have the casual Bulldog hockey fan worried, but the young group of Dawgs on the ice see nothing but a chance to improve and get back on top.
According to many of the players, the general consensus is that there is nothing to worry about. Despite the team's record, sophomore goaltender Darren Smith has been performing well this season, and he recognizes and owns that the team needs to tweak some things and get the wins rolling.
"Yeah, it has been a slow start for us but it is early in the season and some guys are still trying to get used to our systems," Smith said. "We also have a young [defensive] core this season as we lost four of our senior [defensemen] last year, and they are still getting adjusted to the speed of college hockey."
Smith tallied up 836 total saves during his 2015-2016 standout freshman year. Smith has 137 so far this year.
"We have had some positives in the past couple games, and I just think we need to keep working hard, establish our identity as a gritty team that's going to outwork the opposition every night, and things will start to go our way," Smith said.
Junior defenseman Tyler Dorantes also commented on the performance of the team, showing confidence in some of the newer Bulldogs.
"I think all four of the freshmen [defensemen] look at our system and understand that we are a hard-nosed team and that is how we need to play defensively," Dorantes said. "They are all competitors and skilled hockey players who are adapting to Bulldog hockey and doing a great job, too. I feel like we have all made some mistakes through the first four games but we are working out those kinks and learning from them."
Dorantes' realistic, no-bull-about-it attitude toward improving as a team is balanced out by his understanding of the importance of remaining a team, win or lose.
"I think we need to stay together and continue to believe in one another," Dorantes said. "We know how we need to play day in and day out and we know that it is going to take everyone to win. When we stick to the game plan and are locked in during practices and games, we are a tough team to beat."
Last year's WCHA Championship Bulldog team only notched one win through their first five regular season games and things turned out pretty well for them. Junior forward Mitch Maloney, who scored the Bulldogs' very first goal of the 2016-2017 season, summed up the team's early woes.
"The record does not reflect the way we are playing," Maloney said. "I think we need to play with a little more speed and grit, especially early in games. The goals will come if we do the little things right. It is not a systematic adjustment as much as it is an effort and energy thing."
The Dawgs will return to play in front of the Bulldog faithful once again 7:07 p.m. Friday, Oct. 21, in Ferris' Ewigleben Ice Arena.