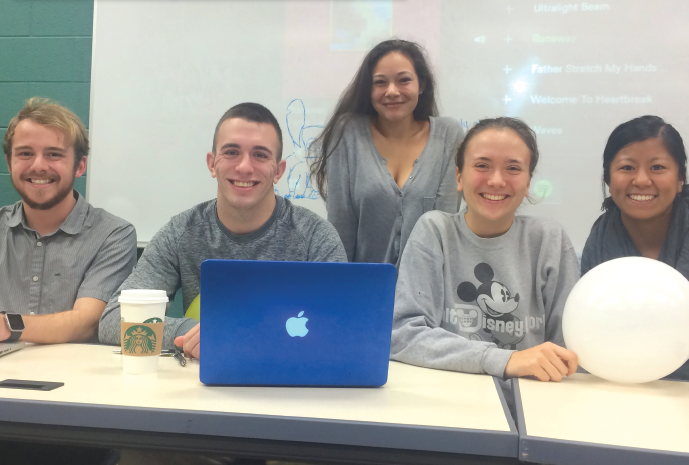 Ferris students from different backgrounds and majors have joined together to participate in a registered student organization and do their part in the fight against cancer.
As students partake in their four years at Ferris State, there is plenty of opportunity to get involved in at least one worthy registered student organization (RSO). One option could be the hard working and active Five-Star RSO, Colleges Against Cancer (CAC).
"Colleges Against Cancer is a student-run organization here at Ferris State that raises cancer awareness and education throughout campus on cancer-related topics," said Ferris music industry management junior and CAC President Cat Loschiavo.
CAC pairs up with the American Cancer Society (ACS) to plan and host the campus-wide fundraiser Relay For Life each spring in the Wink Arena. Last spring, Relay For Life raised $48,742.58 in donations and participants totaled 1,141.
"My favorite part of CAC is putting on the actual Relay For Life," said vice president and Ferris pharmacy senior Cody Wise. "Last year I worked logistics, so I handled where all the tables go, where the stage went and all that stuff."
Although Relay For Life may be the largest fundraiser CAC organizes, the student organization is planning two fun and interactive fundraisers for this fall, one of which is The Purple Toilet Fundraiser.
"The event is a month-long fundraiser that focuses on raising cancer awareness and raising money for breast cancer research," Loschiavo said. "We have a painted purple toilet seat that will be passed from RSO to RSO, and each RSO, when they receive the toilet, will have 10 days to either pay $10 to have it taken away, $15 to pass it to an RSO of their choice or pay $20 to get toilet insurance, which they will be safe from the toilet for up to 10 days."
The Event Development committee of CAC is responsible for the design of the toilet and organization of The Purple Toilet Fundraiser.
"At the end of the month we will have a dodgeball tournament," said event development co-chair and Ferris business and human resources sophomore Greg Brunner. "The RSOs that raise the most money will get an advantage and the RSOs that raise the least amount are going to get a disadvantage."
Lauren Boyd, event development co-chair and Ferris nursing junior added, "Most of the proceeds will end up going for breast cancer awareness."
Besides the Purple Toilet Fundraiser in October, CAC also organizes the Bearded Bulldog competition that formally begins Tuesday, Nov. 1, and will run through the end of November. Participants shave their beards completely on Monday, Oct. 31, and by the end of November, the participants with the craziest beards, most decorated beards and participants who raised the most money will receive prizes. The event is in support of cancer patients going through treatment.
Other activities involving CAC include The Big Event, Rake n Run and a new project aimed to encourage a smoke-free Ferris campus called "The Great American Smokeout."
CAC currently sits at about 30 registered members through OrgSync but that number generally increases once planning for Relay For Life begins. Meetings are held each Wednesday at 7 p.m. in IRC room 107, and new faces are always welcomed. The atmosphere within CAC is fun, friendly and every event they put on is for a great cause, according to members of the RSO.