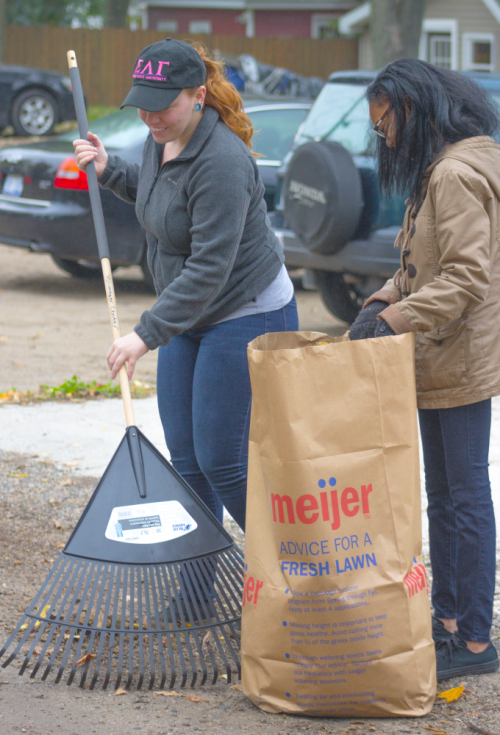 The cold, rainy weekend was no obstacle for the volunteers of the 2016 Fall Alleyway Cleanup as they worked hard to improve the alleyways of Big Rapids.
On Saturday, Oct. 15, Ferris students and community members met outside Williams Auditorium at 11 a.m. in hopes of cleaning as many alleyways in the Big Rapids community as possible.
"The goal of this is to make people learn about recycling a little bit more but also to kind of bridge that gap between community members and college members just by setting the example that we're going to go out and clean alleys and stuff. So, hopefully, everybody will be enthused to join in making our city pretty," said Ferris math senior and one of the coordinators of the event, Kyle Denney.
The event was coordinated by the Bulldogs Sustainability Alliance, the Ferris student government and the city of Big Rapids.
"I feel like people don't understand the importance of having a clean community and having an open community and a supportive community," said Ferris criminal justice junior Nikeila Jordan. "It's something we should do."
Over 60 volunteers came out Saturday, which meant that 12 alleyways were assigned, covering about 50 blocks throughout Big Rapids according to Denney.
Volunteers who picked up trash and recyclables and raked leaves were rewarded with hot cocoa and doughnuts.
"I wanted to help clean up Big Rapids because I've been through these alleyways while walking and realized how dirty they were, and also I'm part of honors and a big portion of honors is volunteer hours and it's a great way to get that," said Ferris digital animation freshman Alex Rynkiewicz.
Ferris pre-pharmacy sophomore Miranda Blaine found out about the event for her RSO—the Newman Center for Catholic students—through a campus wide email.
"[It's fun] helping the environment [and] spending time with my RSO co-members," Blaine said.
"I'm a very big stickler on the community; I really want the community to be a better place for everyone," Jordan said. "So, I do this actually in Detroit with my grandfather. We're really big in the community in Detroit and so, when I heard that they were cleaning up the alleyways, I felt like I had to help."
The planning of the event began last spring and coordinators hope to make this an annual event within the community, according to Denney.